Galaxy Note 8 will be available in three colors and Bixby-friendly earphones
Samsung's Galaxy Note 8 is expected to carry the design language of Galaxy S8.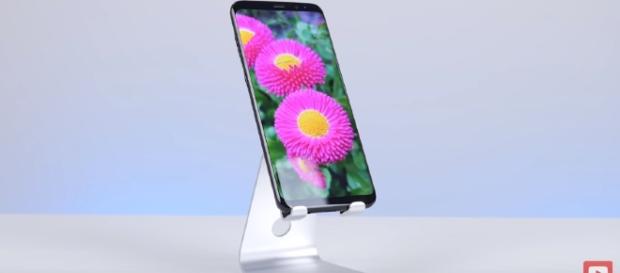 Samsung is all set to unveil its Galaxy Note 8 smartphone in New York City at the Galaxy Unpacked event on August 23. With the announcement date of the phablet is only a month away, the prolific tipster, Roland Quandt, hit on his Twitter account to reveal that the upcoming flagship mobile device would be available in three color models.
According to Deccan Chronicle, in spite of the fact that Quandt's Twitter post doesn't have any photos attached, the tipster has clearly mentioned that the Galaxy Note 8 will be offered in orchid gray, black as well as new deep blue colors.
However, the South Korean tech company typically does roll out its flagship smartphones in a variety of colors, the company usually launches 2-3 of those colors in the United States due to the carriers.
Although Samsung's much-awaited smartphone will likely get a whole handful of colors, these three colors would be the most popular ones. The tech giant has been making its handsets into all kinds of different colors, which really made the company's devices appeal to even more smartphone enthusiasts.
Smartphone specs and features
In terms of Galaxy Note 8's specs, the mobile device is expected to feature a 6.3-inch dual-curved edge Super AMOLED Infinity Display with 1440 x 2960 pixel resolution. The smartphone's internal components are expected to be identical to the Galaxy S8 and S8 Plus. As reported by IB Times, tech experts are expecting that the U.S. variant will include Qualcomm's Snapdragon 835 processor, while the rest of the world will get the Exynos 9 8895 SoC.
The Galaxy Note 8 is touted to be the tech giant's first flagship mobile device to roll out with a 6GB of LPDDR4X RAM.
Although Samsung did not confirm the storage details, the phablet is expected to be up for grabs in two variants, 64GB and 128GB.
The smartphone is also anticipated to come along with a 12MP dual rear camera setup along with a Dual Pixel autofocus system as well as an independent optical image stabilization. Economic Times reported that the company might roll out the Note 8 with a pair of wireless earplugs, which will be powered by Samsung's all-new virtual assistant, Bixby.
In keeping Note 8's thickness and weight in check for a stylish look, the device will ship with a smaller 3,300mAh battery. The flagship mobile device is also likely to boast an improved S-Pen.
Device's price
As far as pricing is concerned, the smartphone is touted to be the company's most expensive handset yet. The Galaxy Note 8 is expected to have a $1,000 price tag.