AMD Ryzen Threadripper: ASUS ROG Zenith Extreme X399 specs, pricing revealed
ASUS introduces ROG Zenith Extreme X399, the high-end motherboard designed specifically for AMD's upcoming Ryzen Threadripper processors.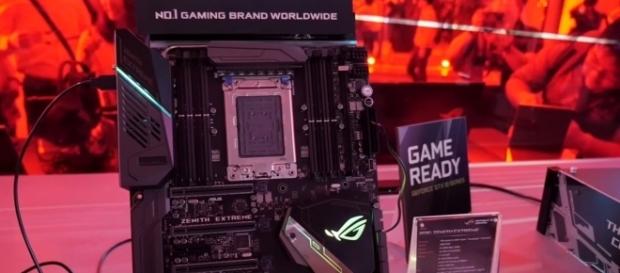 AMD Ryzen Threadripper won't be in the market until August. But just recently, Taiwanese multinational company AsusTek Computer Inc. or simply ASUS has shared some highlights following the unboxing of its high-end gaming motherboard specifically designed for the said AMD processor, the ROG Zenith Extreme X399 motherboard.
Unboxing ASUS motherboard for Ryzen Threadripper
The said ASUS motherboard was first introduced at Computer 2017. Now, according to sources, this ASUS ROG Zenith Extreme X399 motherboard can be expected to be presented at AMD's "Meet the Experts" webinar which will happen this coming July 25.
According to tech website VideoCardz, this ASUS motherboard is a top-tier motherboard based on AMD's first HEDT platform. The features include four (4) PCIe 3.0 x16 lanes for multiple graphics cards and ultra-fast NVMe SSDs.
There is a total of eight DIMM slots, four on each side sandwiching the TR4 CPU slot, and then there's one DIMM2 extension card slot.
The expansion slots include four (4) PCIe 3.0 x16, one (1) PCIe 3.0 x4 and one (1) PCIe 3.0 x1 slot. The motherboard has six (6) SATA III ports, one (1) single U.2 port, two (2) USB 3.0 front panel headers and one (1) internal USB 2.0 port. For wireless connectivity, the Wi-Fi is based on 802.11ad standard and a 10G Ethernet card that can support 2.5G and 5G standards. The package is said to also include GPU hold bracket and several SATA cables.
The said unboxing which happened in China is said to kick-off the review for ASUS ROG Zenith Extreme X399 motherboard. Thus, we can expect some details on or even before "Meet the Experts" webinar early next week.
As for its price, this high-end motherboard from ASUS is expected to come at a higher price, even higher than ASUS PRIME X299 Deluxe which is tagged at US$499.
AMD Threadripper cheaper, more powerful than Intel Core i9
Based on the latest report of Market Watch, AMD Ryzen Threadripper processors are cheaper compared to Intel's Skylake 18-core processors which are expected to arrive by September or October. So what's the price difference?
ASUS's ROG Zenith Extreme Flagship X399 Motherboard For AMD Ryzen Threadripper Processors Unboxed – More X399… https://t.co/XpPs3a4VJk pic.twitter.com/C0ROS4rZYa

— Wccftech (@wccftechdotcom) 21 July 2017
According to the report, the AMD Ryzen Threadripper 12-core/24-thread 1920X which has a boost clock of 4.0GHz will be sold for US$799. The 16-core/32-thread 1950X variant, meanwhile, has a tag price of US$999. That's already the same price of Intel Core i9-7900X with 10-core/20-thread. Meanwhile, Intel Skylake-X 18-core/36-thread is expected to hit as high as $1,999.
As for the performance test based on Cinebench R15, Intel' Core i9-7900X scored a total of 2,186. The upcoming Threadripper 12-core/24-thread 1920X scored 2,431. That's more or less 12% more powerful while cheaper by about $200.
Click to read more
and watch the video
or