Microsoft Modern Keyboard: has Apple MacBook Pro's features
Here are the things you need to know about Microsoft's new keyboard in terms of specs, features, and price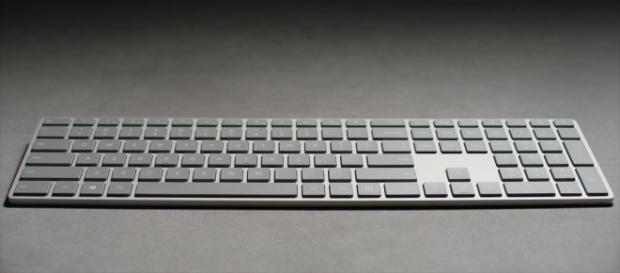 The Redmond-based tech giant silently launched the Microsoft Modern Keyboard. Interestingly, this simple looking hardware has one of Apple Macbook Pro's best features. Made from a beautifully engineered aluminum slab, the latest keyboard boasts an integrated fingerprint sensor that lets you forget your password. This latest Bluetooth keyboard can be used with any machine and not just with Surface devices.
Specs and features
It can be recalled that the Redmond-based tech giant previously released the Surface Keyboard on the market.
This year, it is introducing the Microsoft Modern Keyboard. In terms of aesthetics and design both are the same except that this new keyboard has a wired connection and fingerprint sensor.
The wired connection enables users to use the keyboard with a wire instead of being wireless. The new keyboard has a sleek profile, which is 19.3mm in height, comes in full-width, and has a numerical keypad. Aside from this, the keyboard's Bluetooth 4.0 connectivity can be accessed up to 15 meters in open space and can extend up to seven meters when inside an office. It also has a built-in battery that can last for a couple of months. It can be used on systems like Windows 8.1 via 10, Windows 10 phone, MacOS 10.10.5 and higher, Android 4.4.2 and higher, and iOS 8.1 and higher.
The sensor
The fingerprint sensor of Microsoft's latest keyboard is located within the Windows button key just on the right-hand side. It is the key placed in between the Alt and the CTRL keys. This Apple MacBook Pro-like sensor can be used to gain access to a Windows PC or websites that utilize Windows Hello.
In other words, with this latest feature, you can simply tap the key with your recorded finger and access Windows 10 without the need to recall your password. Moreover, if the user is using an app that works with Windows Hello, several activities like approval of purchases, to name a few, can easily be done by using the sensor.
Price
The Microsoft Modern Keyboard will be available soon for $130 and can be purchased from the Microsoft Store or from other authorized stores. While the price is quite high compared to its predecessor, the latest ergonomic keyboard comes with Alcantara fabric that promises comfort and ease of use. The company also has the Surface Mouse available for $50 with a sleek design, which has been the new name, Modern Mouse in order to match the new keyboard.
Click to read more
and watch the video
or