Apple MacBook external GPU enclosure coming soon, selling $599 VR kit to devs
Apple has revealed through their updated Metal 2 graphics technology that they will soon be natively supporting external GPUs for MacBooks.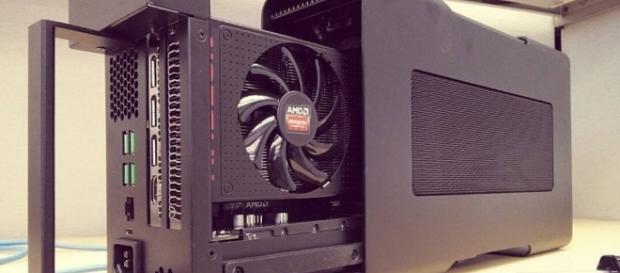 Apple's current line of MacBook laptops sports Thunderbolt 3 ports and most of the modern GPU enclosures also work with Thunderbolt 3. While it might make sense that both devices should work seamlessly together, this is unfortunately not the case. The incompatibility with Macbook and external GPU enclosures has been a gripe for a lot of users, who don't really see the point of Apple barring it from working.
Native support
Apple MacOS does not allow GPU enclosures to communicate with the laptop, even when it is running Windows through boot camp.
Some enterprising users have found a way to get around this problem, but the procedure does involve some very complicated steps that have their own risks. Fortunately, Apple has just recently revealed through their updated Metal 2 graphics technology that they will soon be natively supporting external GPUs.
Working with the consumers
At the recently held Worldwide Developers Conference (WWDC) event today, Apple announced its new Metal 2 graphics technology within the upcoming macOS High Sierra operating system. The technology basically means that MacBook laptop owners will soon be able to directly plug in external GPUs via the Thunderbolt 3 port without any modifications to the software. The external graphics support will allow users to run virtual reality software, VR headsets, and graphically intensive games with their ultraportable laptops. Apple has also announced that it is currently working with Valve, the company that also owns Steam, to bring SteamVR to Mac. The system is of course still in beta, but it should become available to end-users very soon.
This is what the VR stations at #wwdc2017 look like. MacBook, GPU Enclosure, Vive. pic.twitter.com/nQ8n8pPmlP

— Holodeck Janitor (@russellholly) June 5, 2017
Apple-built enclosures
As a product built for developers, Apple has now started selling its own GPU enclosures.
The Apple enclosures are currently available for developers for $599. The devices are meant to be used for the creation of 3D applications and games specifically for Mac laptops and desktops. The enclosures reportedly only work with the beta version of MacOS High Sierra and not for any of the older versions of the operating system.
Additionally, developers who want to start working with the new operating system can now get the Sonnet external GPU chassis, which will be packaged with an 8GB AMD Radeon RX 580 GPU. Developers will also get a $100 bonus towards the purchase of an HTC Vive headset. Only members of the Apple Developer Program are eligible to purchase the new external GPU package.
Apple has also revealed through their preview page that external GPU support for the new operating system should become available to regular consumers in the spring of 2018.
Click to read more
and watch the video
or