MSI launches six new GT 1030 variants, a budget GPU for every user
MSI's new cards are perfect for those who are looking for a budget-friendly GPU solution to watch 4K 60 Hz video and to play less demanding games.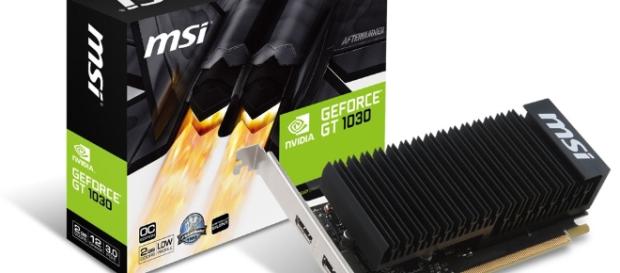 Nvidia recently launched its brand new budget-friendly 10-series Gpu, the GeForce GT 1030, to go up against AMD's low-end offering, the Radeon RX 550. The new product offers the same relative specs as its AMD counterpart, but it is priced $5 cheaper. The amount may not be a lot, but budget-conscious consumers may be swayed to purchase Nvidia's product for that reason alone.
MSI's new offering
The third party add-in card (AIC) company, MSI, has recently announced six new versions of the Nvidia's new low-end GPU.
The six new variants are the Msi GT 1030 ITX 2G OC, AERO ITX 2G OC, 2GH OC, 2GH LP OC, 2GH LP OCV1, and the 2G LP OCV1. All of the six cards are based on the reference card released by Nvidia, which means that they will be sporting 384 CUDA cores and 2GB of GTps GDDR5 memory set on a 64-bit memory bus clocked at 6,008 MHz.
All of the cards have a 30W power draw, which means that they will not require any external power connectors. MSI has also tuned all of the card's clocks to the same frequency, specifically at 1,265 MHz base and 1,518 MHz boost.
Confusing labels
While the names of the cards may be confusing, MSI has intentionally labeled them appropriately according to their specific features. Cards with the "LP" moniker, which stands for "low profile" are basically half-sized cards that are perfect for mini-ITX setups or other compact builds.
Cards with the "H" placed right after the "2G" label are equipped with passive cooling heatsinks. Without any moving parts, these GPUs offer consumers a silent 0dB operation. Those without the "H" label are cooled by a small fan installed on top of the board.
Quality build
MSI revealed that similar to its products, all of the GT 1030 variants are built with military class MIL-STD-810G certified components.
This means that the GPUs are built to have the best stability and reliability on almost all setups. Additionally, all six GPUs will be coming with the company's Afterburner overclocking software. The OC versions are more easily overclocked of course, but the other versions can still be tweaked to a certain extent.
The GT 1030 GPUs are perfect for those who are looking for a budget-friendly GPU solution to watch 4K 60 Hz video and to play less demanding games such as "Counter-Strike: Global Offensive" or "League of Legends." The cards do churn out a little more power than integrated graphics, but having them installed on a system is better than not having them at all.
Click to read more
and watch the video
or