Latest iPhone 8 leaks reveal vertical rear camera and other aspects of the phone
Leaked renders and schematic allegedly belonging to the upcoming iPhone 8 surfaced online, which gives a clue of the design of the handset.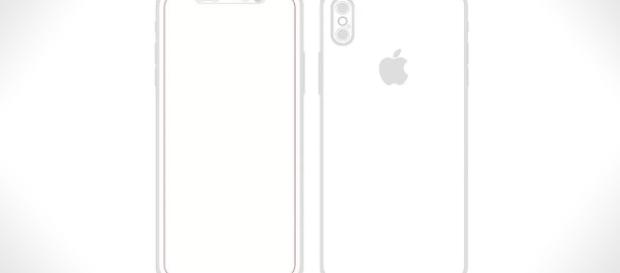 As the September release date gets closer, the slew of leaks and rumors surrounding the upcoming iPhone 8 has increased. Apple is expected to unveil the device soon, but for now, people are finding solace in the numerous rumors regarding the smartphone. Over the weekend, new schematic images of the impending handset also surfaced online, which once again showed the revolutionary design of the iPhone 8. All of the relevant leaks were shared by Benjamin Geskin and Slash Leaks.
Rumors reveal that the iPhone 8 may feature an almost bezel less body, along with the absence of a physical home button and the addition of a vertically aligned dual camera setup.
The recent series of Leaked Schematic designs and renders seem to point to these same features. A new schematic showcased the total absence of bezels on the bottom and sides of the display, while another render showcased the iPhone 8's dual camera alignment.
Almost bezel-less display
A schematic diagram of the display of the impending iPhone outlines the edges of the screen with an orange marking. The marking reveals that the flagship device will be devoid of any bezels on the bottom and sides of the display. However, on the top, the screen will curve in slightly to allow space for the front faced camera and headphone jack, thus sporting a minimal amount of bezels.
Vertically aligned dual camera and rear face of the iPhone 8
Geskin shared a CAD drawing of the rear face of the iPhone 8, which gives some important clue as to what the device will feature.
In line with previous rumors, the CAD shows the smartphone coming with a vertically aligned dual camera. One can also spy the round slot in the center of the rear face of the device. This could be the place assigned to the Touch ID sensor. However, Geskin claims that the slot is for the Apple logo and not the fingerprint sensor.
This begs the question as to where the Cupertino based company is planning to mount its Touch ID sensor. There is speculation that Apple may have found a way to deploy the biometric scanner under the display itself, which would allow it to ditch the physical sensor.
Slash Leaks also launched images of the impending smartphone housed inside protective cases. The veracity of the images are circumspect but, still reveals the revolutionary design of the next flagship handset from Apple. The iPhone 8 or iPhone X are supposed to be launched in September along with the upgraded iPhone 7s and iPhone 7s Plus.
Click to read more
and watch the video
or