ZTE Blade X Max arriving in the US via Cricket Wireless
US carrier Cricket Wireless is expected to retail the ZTE Blade X Max soon.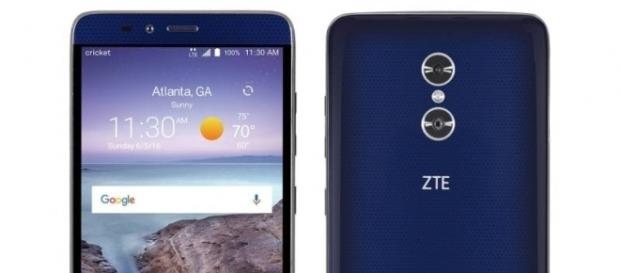 ZTE has a slew of affordable smartphones, which do not burn a hole in the pocket of budget conscious buyers. The OEM is now gearing up to add to its mid-range device lineup and is allegedly set to make available a new smartphone on U.S. carrier Cricket Wireless soon.
While both the ZTE Max XL and ZTE Blade Max 3 have already made their debut at Boost Mobile and US Cellular, rumors about a third ZTE handset is creating buzz. The third ZTE handset which is rumored to be introduced in the United States is the Blade X Max.
Rumored features
According to rumors, the Blade X Max is expected to sport a 6-inch 1080p display. The smartphone is expected to be powered by a Qualcomm Snapdragon 435 processor, and house 2 GB of RAM.
The rumored ZTE handset is also anticipated to feature 32GB of internal storage. The smartphone will likely offer expandable memory support of an additional 64 GB.
Camera and battery capabilities
The ZTE device is rumored to be equipped with a 13MP rear-facing camera. The smartphone may also boast a 5MP front-facing snapper to lure selfie lovers. The upcoming device is also expected to house a 3,400 mAh battery. The Blade X Max will apparently offer support for Quick Charge 2.0 support and a USB Type-C port. It is also expected that the rumored handset from ZTE, may come with Android 7.0 Nougat operating system out of the box.
With such exciting features on board, the ZTE Blade X Max looks like a great device for those who are looking for an inexpensive, but robust smartphone.
Pricing and release
Details on the smartphone's pricing are not available.
However, it is speculated that the ZTE handset may be priced around the $149.99 mark, just like the company's Grand X Max 2. This smartphone is also available from Cricket Wireless. Whether the Blade X Max will be exclusive to Cricket Wireless is not known. It remains to be seen when and at what price the prepaid carrier makes available the impending handset.
Other ZTE smartphones offered by Cricket Wireless
While waiting for the Blade X Max to become available from Cricket Wireless, users can have a look at few of the other ZTE smartphones the prepaid carrier offers. Once can opt for the ZTE Grand X 4, which is priced at $79.99 and is available under various plans. Alternately, one can opt for the ZTE Grand X 3, which will set one back by $69.99. Few of the other devices from OEM available on Cricket Wireless include ZTE Grand Max 2, ZTE Sonata 3, and ZTE Fanfare.