Leaked iPhone schematic shows 3D facial sensor and bezel-less display
Rate this title
On top of the iPhone's front display, several sensors are clearly shown on the leaked schematics.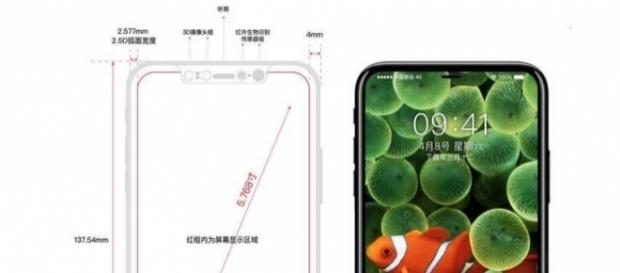 Samsung and LG have already released their latest and greatest flagship offerings, namely the Samsung Galaxy S8 and the LG G6. With this in mind, Apple is likely now pressured to respond with a device that will stabilize their dominance in the high-end smartphone market. Based on the most recent leaks, their upcoming Apple iPhone 8 offerings may just do the trick.
More options for users
The new iPhone, or iPhones, are expected to be launched sometime in September. The company is expected to unveil three new variants this time around, namely a standard 4.7-inch iPhone, a 5.5-inch Plus model, and top-variant 5.8-inch iPhone Edition.
The claims are according to the latest reports from various analysts, but Apple could very well surprise everyone and go with one or two variants instead.
Leaked iPhone schematics
Despite the flagships still being five months away from being unveiled, rumors and leaks are still continuing to proliferate online. The latest leak comes in the form of an alleged schematic for the front side of the device, which actually reveals quite a lot about the features that will be coming.
The Leaked schematics looks to be for the high-end variant of the next flagship, which is expected to finally incorporate a newer OLED panel. Similar to the Galaxy S8, the new Apple flagship will apparently feature a near bezel-less Display with a 2.5D curve of the sides. This means that the glass will be sloped by 2.5mm on both sides.
Pulling off what Samsung could not
The new leak also suggests that Apple is planning to embed the Touch ID sensor under the front display. However, there is some doubt if they would be able to pull it off in time for the production of the actual units. Samsung's flagship was previously rumored to incorporate the same technology, but due to unannounced reasons, the company had to take a step back and placed its fingerprint sensor on the back instead.
Additional unique features
On top of the front display, several sensors are clearly shown on the leaked diagrams. It seems like Apple might, in fact, be going with the long-rumored 3D recognition sensors up front. This would allow for a more secure facial recognition system that cannot be bypassed by simple photos. Additionally, an unknown sensor is also shown right beside the front facing camera. The function of the sensor placed within the "sensor group" is still unknown, which means that Apple may have an ace up its sleeve this time around.
Click to read more
and watch the video
or