Lamar Jackson's first playoff game was terrible, Ravens fans boo their rookie quarterback
Fans chant for super bowl MVP but instead Ravens show the direction they are going.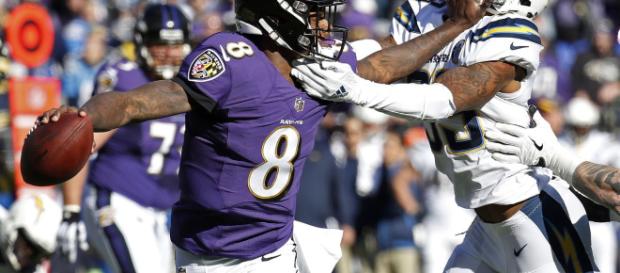 Baltimore, MD was rocking for the first time in four years. That's because the Baltimore Ravens were playing a playoff game for the first time in four years and it was the first game that the Ravens organization hosted since 2012. Their opponents were the Los Angeles Chargers and also themselves, primarily their rookie quarterback Lamar Jackson. In fact, the only excitement Ravens fans had was watching hall of fame player Ray Lewis come out of the tunnel and do his signature dance. When Jackson took the field the Ravens offense looked inept, only getting three first downs in the first half, Jackson himself couldn't complete a pass going 2/8 for twenty-five yards.
He missed wide open receivers and just looked lost. He fumbled twice as did running back Kenneth Dixon. Lamar Jackson was pressured often and sacked 7 times in the game. The only bright spot for the offense was a field goal scored by the always good Justin Tucker.
Lamar Jackson gets booed by Ravens fans
The end of the first half saw analysts and commentators saying the Ravens should heavily consider playing Joe Flacco. Well, head coach John Harbaugh decided to stick with Jackson to start the third quarter.
This proved to be a very big mistake. Lamar Jackson's entire game revolved around running first and passing second. It was an embarrassment considering what the Ravens were used to seeing. Several times during the game Joe Flacco, now the backup was seen standing with his helmet on as if he was going to be called upon. But it never materialized. The Ravens and their offense continued to act like the "high school offense" it is since Lamar Jackson took over.
The Chargers played the perfect defensive game as they kept eight players in the box, with a linebacker spying Lamar Jackson the whole game.
To show how immature and amateur Lamar Jackson really was, he chose to run instead of pass, even when he needed to. He made the game all about him instead of the team. He doesn't listen to coaches, instead, he just improvises, and today it cost his team. His performance was so bad that the Ravens fans booed their rookie quarterback and fans sitting behind the Ravens bench were cheering for the team to put Joe Flacco in. The Ravens didn't get their fourth first down of the game until the fourth quarter when they trailed 23-3.
He fumbled three times and threw one interception. The last fumble with less than a minute in the game put the game out of reach and gave the Chargers the win.
Since these two teams played two weeks ago it gave analysts a chance to ask the question, "How would the Chargers prepare for Lamar Jackson?" Baltimore Ravens writer John Eisenberg gave his thoughts saying, " It helps that the Chargers have gone against Jackson and the Ravens' unusual ground-oriented attack so recently." He was right. The Chargers' coaching staff clearly made adjustments to stop Lamar Jackson.
Lamar Jackson played better in the fourth quarter as he threw two touchdowns to wide receiver Michael Crabtree. But it was too little too late. Lamar Jackson finished 14/29 for 194 yards, two touchdowns, and one interception, three fumbles (one lost).
Joe Flacco, once a hero, now forgotten
When coming back from halftime, Tony Romo said that the Ravens should consider going to Joe Flacco. After all, he did win a super bowl and the super bowl MVP. There were several times today that Flacco looked ready to go in but he didn't, or rather couldn't. Heck, even when the Ravens fans were booing Lamar Jackson after his terrible performance, head coach John Harbaugh should've pulled the trigger and had Flacco bring stability to the game.
Rather than save the game and turn to "January Joe," the coach decided to stick with the inexperienced Lamar Jackson. During his post-game press conference, John Harbaugh made a comment that has to hurt Ravens fans when he was asked about why he didn't go to Flacco. He said, That he "considered making a change, but it was the right decision to stick with Lamar Jackson." He goes on to say, "In the end -- talk about the fourth quarter --Lamar played well in the two-minute offense, I don't think Joe would've played any better." Is he serious? He insulted a veteran quarterback of 11 years who has ten playoff wins. A quarterback that has been there as long as him, and they even hoisted the Lombardi trophy together when they won Super Bowl 47.
But despite not playing Joe Flacco, it really showed that the greatest quarterback in the Ravens twenty-two-year history was forgotten not only by his head coach, but also by management, fans, and analysts. When Joe Flacco went down with a hip injury and Jackson was made the starter, pundits predicted that the Ravens would move on from Flacco in the offseason because there was no guaranteed money left on his contract. Clearly, the Ravens are looking to the future.
Jamison Hensley of ESPN wrote, "Harbaugh made it clear after the game that Jackson is the future and Flacco is no longer in the Ravens' plans. It's expected that Baltimore will trade or release Flacco this offseason." Kevin Patra, an around the NFL writer, goes into more detail. According to Patra, "Flacco has three years remaining on his contract and the team would take a $16 million cap hit but save $10.5 million by jettisoning the quarterback." During his press conference, John Harbaugh said of Flacco, "Joe is going to do really well in this league. Joe can still play as we saw in the first half of the season." Then he said the unthinkable, "Joe's going to have a market. A lot of teams are going to want Joe because they understand that and I'll be in Joe's corner wherever he's at. He's special. Joe's a great talent and a great person. He's the best quarterback in the Ravens history, no question."
So to clear things up about today's game, Lamar Jackson had -2 passing yards until the fourth quarter and had three turnovers and looked lost. When the Ravens had the chance to right the ship and take him out and play Joe Flacco, they didn't. It became crystal clear that the best chance to win the game had to sit on the bench and watch an inaccurate, idiotic quarterback permanently take his job.
This is the direction the Ravens organization is going. Joe Flacco in his entire career has never been so mistreated. The fans, analysts, ownership, and coaching staff all got what they wanted by benching Flacco. Now the team is in the hands of a run first, inaccurate quarterback. Flacco is clearly a forgotten great player who will indeed show how great he still is. I think Joe Flacco will win another super bowl while Lamar Jackson is still looking like an idiot. Here's to the future of the Ravens. May you get what you deserve. And to all the analysts who questioned Joe Flacco, I hope he proves you all wrong and shows how "elite" he really is.
This news article has been verified through:
http://www.espn.com/nfl/story/_/id/25700212/baltimore-ravens-coach-john-harbaugh-said-was-right-call-stick-lamar-jackson-joe-flacco
http://www.nfl.com/news/story/0ap3000001008497/article/john-harbaugh-joe-flacco-is-going-to-have-a-market
Click to read more
and watch the video
or