UEFA Nations League: England vs Spain live streaming on ESPN at 7 PM BST on Saturday
Follow the Spain v England live score on BN here. The online streaming can be watched on ESPN+ in the US and Spky Sports in the US.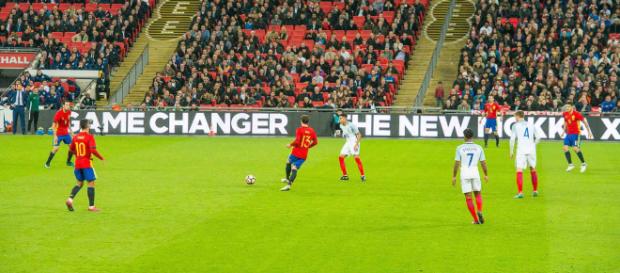 The English Football team will be playing their first match since the World Cup 2018, when they face Spain at the Wembley Stadium in London on Saturday, September 8, 2018, in a UEFA Nations League A match.
The match will kick-off at 19:45 PM BST. Both the teams will be playing their first match of the tournament.
Slotted in the Group 4 of League A, England and Spain find themselves with the runners-up of the World Cup 2018, Croatia. When the draw for the tournament was made, Spain looked like the strongest team in the group, but an early exit from the World Cup as well as England and Croatia's entry in the semis has changed that equation.
Live streaming :UEFA Nations League : England vs Spain:Pre match lineups https://t.co/7l9DVkFamS pic.twitter.com/R6plrHllMT

— Josephayo247Blog (@josephayo247) September 8, 2018
Rashford to partner Kane in the attack
The home team has made some changes to their squad that finished fourth in the World Cup earlier this year. Experienced players, Jamie Vardy and Gary Cahill have decided to step down from the national side and have told the manager Gareth Southgate not to consider them for selection unless there is an injury crisis.
Goalkeeper Nick Pope and center-back Phil Jones are both injured and they stay out.
Ashley Young has been overlooked for a young Luke Shaw. Raheem Sterling has also pulled out of the squad, which will provide an opportunity for Marcus Rashford to play in the front two alongside the captain Harry Kane. England is expected to stick to their 3-3-2-2 formation which worked well for them during the World Cup.
📖📖📖

Read more from @kylewalker2 in our official matchday programme, available at @wembleystadium and online here: https://t.co/CgYw1UO5uf pic.twitter.com/t3MmhWg3k8

— England (@England) September 8, 2018
Costa pulls out as Luis Enrique takes charge of the side
For Spain, it will be like a beginning of a new era with Luis Enrique taking charge of the team for the first time.
Gerard Pique, David Silva, and Andres Iniesta have retired from international football, and there will be new faces in the Spanish squad replacing the stalwarts.
Diego Costa also has pulled out of this game due to personal reasons. It will be interesting to see who comes in place of Pique to support the captain Sergio Ramos in the defense. New manager Luis Enrique is likely to stick to a 4-3-3 formation against England.
Live streaming and tv telecast
Come down to the #FaradaysSportsBar to watch #England vs #Spain at 19:45 today @UEFAEURO #NationsLeague #SkySports #Football @UEFAcom #HinkleyCampus pic.twitter.com/WZazLLwBVM

— HOST (@HOSTSomerset) September 8, 2018
The match will be telecasted live on Sky Sports, and Sky Sports Football starting from 7:45 PM BST in the United Kingdom.
Viewers in the US can watch the live coverage on Univision Deportes and it can be streamed live online using ESPN+.
Read: India vs England 5th Test day 2 live streaming on Sky Sports at 3 PM IST on Saturday
Also read: Afghanistan vs Ireland 2nd T20 live cricket streaming on BBC at 8 PM IST on Wednesday
This news article has been verified through:
https://www.telegraph.co.uk/football/2018/09/08/england-vs-spain-uefa-nations-league-time-does-kick-tonight/
http://www.goal.com/en/news/england-vs-spain-tv-channel-live-stream-squad-news-preview/i5b7dyb8b09l1afb86ikwx1g1