Sixers Rumors: Fultz, Saric, and Lakers pick for Leonard is 'the deal' to make
Trading for Kawhi Leonard would require the Sixers to send a King's Ransom package that includes their two young players and the Lakers pick.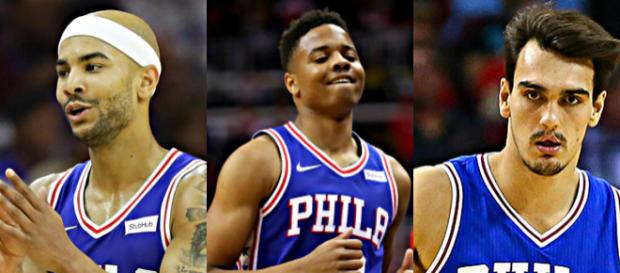 The Philadelphia 76ers morphed into the next big thing in the NBA not only because they tanked for a number of years but they also did several shrewd transactions in the trade market. With two-way superstar Kawhi Leonard looking like a prime trade candidate this summer, the Sixers are once again expected to become a major player for one of the game's best players.
Although viewed as a controversial figure in the NBA community, Bryan Colangelo deserves a ton of credit for putting the Sixers at this spot right now.
In his first two years as team president, Colangelo proved to be a capable predecessor to the man who started the entire process, Sam Hinkie.
He drafted Ben Simmons with the first overall pick in 2016 NBA Draft, avoided the scenario of losing Joel Embiid and Robert Covington by locking them up on team-friendly deals. He added veterans (Marco Belinelli, Ersan Ilyasova) for the postseason grind, and of course, maintained the long view by keeping their payroll flexible for this coming summer. All in all, Colangelo did his homework well as he put the Sixers in a position to compete at a very high level in what could be the first of many playoff runs for this up-and-coming team.
Spurs rumors: Huge development on Kawhi Leonard's trade availability this summer https://t.co/TjUF5hDJqx

— Onchie Aguila (@Shonen_lord) April 22, 2018
The Kawhi Leonard trade
Already with a promising core led by once-in-generation talents like Simmons and Embiid, the Sixers will enter this summer enjoying the luxury of adding another major piece. That luxury comes in the form of cap space and trade assets.
With the contracts of J.J Redick ($23 million), Amir Johnson ($11 million) and Trevor Booker ($9 million) going off the books, the Sixers will have around $30 million in cap space to spare this offseason.
And there's no better time to spend money than this summer when LeBron James, Paul George, Chris Paul and other big-time superstars will presumably hit the open market.
However, free agency is not the only way the Sixers can upgrade their roster, because they are also capable of swinging for a big trade, thanks to a deep stash of draft picks, young players and expiring contracts.
Leonard, whose future with the Spurs will depend on the upcoming contract extension talks this summer, emerges as the No.1 trade target for many teams.
His ability to impact the game on both ends of the floor along with his reasonable base salary ($20 million for the 2018-19 season) makes him a very intriguing trade option, especially for the Sixers who are believed to be one major piece away towards building a new dynasty in the Eastern Conference.
Spurs Rumors: Kawhi, Manu, Tony, Coach Pop could all be gone next season https://t.co/EuegsA64my

— Onchie Aguila (@Shonen_lord) April 25, 2018
The trade package
Sixers: Kawhi Leonard ($20 million)
Spurs: Markelle Fultz ($8.3 million), Dario Saric ($2.5 million), Jerryd Bayless ($8.5 million), and the Lakers 2018 first round pick
In this particular trade scenario, the Sixers send Fultz, Saric, Bayless and the Lakers 2018 first-round selection (a potential top-7 pick) for Leonard. The centerpieces of the Sixers package are Fultz, Saric and the Lakers first pick with Bayless' expiring contract merely acting as filler.
Why should the Spurs accept the deal?
The Spurs are one of the oldest teams in the league, if not the oldest. Their frontline of LaMarcus Aldridge (32), Paul Gasol (37) and Rudy Gay (31) are already past their primes, so is their former starting point guard Tony Parker (35). And yet the four players accounted for a whopping $60 million of their total payroll ($116 million) last season.
By getting Fultz and Saric, they would inject some youth into their roster. Fultz, the 2017 No.1 pick, remains an intriguing prospect at 19-years-old despite going through a mysterious shoulder injury, shooting mechanic woes and a number of DNPs in the postseason. Saric might not have the highest ceiling, but he has proven these past two years that he can be a solid a 10-10 guy on a good team.
The challenge of developing Fultz and Saric into productive players could also bring back the enthusiasm to Gregg Popovich, who has gone through a lot this year with the distraction created by the Leonard injury saga and the unexpected death of his wife, Erin.
The biggest game-changer in this potential Spurs-Sixers trade would be the position of the Lakers' pick post-lottery draft. If it places in the top-5, there's no way the Spurs forego the opportunity of landing one of the unicorn big men in this draft class. DeAndre Ayton, Mo Bamba, Michael Porter Jr., Jarren Jackson, Wendell Carter and Marvin Bagley are all fascinating talents with incredible upsides. Any team would love to get one of these players, especially the Spurs if they pursue trading their franchise player. As for Bayless, he can provide depth for the Spurs, and of course, some cap relief when his contract expired the following summer.
Sixers Rumors: Philly is now the top choice for Paul George https://t.co/niyhdUGqry

— Onchie Aguila (@Shonen_lord) April 24, 2018
Why should the Sixers accept the deal?
Leonard has been crucified (mostly by Spurs fans) for quitting on his team and becoming a locker room 'diva.' However, there's no denying the sheer amount of talent he brings to the table.
He's a two-time All-Star, Defensive Player of the Year winner and MVP finalist for a reason. Leonard's top-notch perimeter defense alone would make things a lot easier for Embiid and Simmons. However, Kawhi is no longer the one-dimensional player he used to be because he also added an efficient offensive game to his repertoire the past few seasons.
Since winning the 2014 NBA Finals MVP, Leonard upped his scoring average from 16.5 PPG in 2015 to career-high 25.2 PPG in 2017. During the 2016-17 season, he shot 48 percent from the field and 38 percent from 3s. The year before that, he recorded a 50 percent field goal clip and 44 percent from beyond the arc.
The best thing about Kawhi is he fits well with Brett Brown's offense. He doesn't need the ball all the time to be effective. He can play off the ball next to Simmons and still punish the defense by cutting, spotting up and hustling up-and-down the floor.
Yes, losing a Fultz, Saric and the Lakers pick is just too much. However, it's worth noting that Fultz isn't a great fit alongside Simmons because well, he can't shoot. There's a reason why he doesn't play that much in the playoffs, and that is because he compromises the Sixers' pace-and-space game. Basically, Fultz sans an outside game is a smaller version of Simmons, only the latter is a much more gifted-passer.
Saric has been good to Philly. He really knows his role and makes the most of it. However, the Sixers can always replace him with Ilyasova or any stretch-four player. The Lakers pick sure is precious, but a high pick doesn't assure a future star.
Another thing why the Sixers should consider trading for Leonard is it opens a lot of possibilities for the team. A superstar-caliber player like Kawhi would attract other big-time free agents to join the party. Remember, the Sixers can still spend cash to land a superstar or retain Redick, Belinelli, and Ilyasova because a Kawhi trade will not compromise their cap space. Just imagine a lineup of Embiid, Simmons, Robert Covington, Leonard and Paul George (or LeBron James).
Kawhi trade hangs in the balance
There's a risk involved in trading for Leonard. The Spurs star just played nine games this season because of a mysterious quad injury. Before engaging in any form of negotiations with the Spurs, the Sixers must first collect all the relevant data to rule out any long-term complication of that injury (they better avoid the scenario the Cavs dealt with Isaiah Thomas). Another thing is they would need a full commitment from Leonard, who has the option to hit the market in 2019. A player in Leonard's stature always draws the attention of competitors like the Boston Celtics, Los Angeles Lakers, New York Knicks and Miami Heat. The Sixers can lock him up on an extension, though they must be ready to face the consequences of a capped up payroll for the next four to five years.
As an NBA fan, will you trade for Kawhi Leonard despite his King's Ransom value and injury risk? Voice out your opinion in the comments section.