Tomi Lahren humiliated on Twitter for clueless rant over NFL players protesting
After Tomi Lahren wondered why NFL players were protesting the national anthem, social media users were quick to fire back.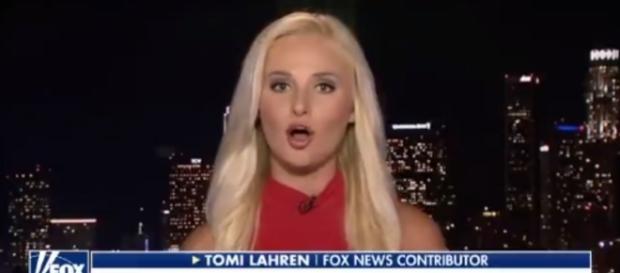 As the feud between #Donald Trump and the National Football League (NFL) continues, the divide it's caused among the American people has only gotten worse. For Trump supporter #Tomi Lahren, she still doesn't appear to understand why many of the players have decided to act out in protest.
Tomi on NFL
It all started last year when former NFL quarterback Colin Kaepernick decided to kneel during the playing of the national anthem prior to his game for the San Francisco 49ers. Kaepernick's reasoning was to bring attention to the alleged police brutality in the United States directed towards African-Americans, as well as overall racial injustice in the country.
Kaepernick opted out of his guaranteed deal during the off season, but has yet to be picked up by another team. Fast forward to last month when Donald Trump was addressing a crowd in Alabama when he highlighted the national anthem protests taking place in the NFL, before referring the players who kneel as a "son of a bitch" and calling on team owners to fire them. The bad blood between the president and his supporters against the players has only continued, leading to multiple tweets by Trump on the issue. In addition, Fox News contributor and right-wing fire brand Tomi Lahren spoke out in a favor of Trump, but didn't get the best response [VIDEO], as reported by Fox News on October 18.
.@TomiLahren on NFL anthem protests: "I would like to ask these players: What exactly are you kneeling for?" @foxandfriends pic.twitter.com/SZAiQVcE6l

— Fox News (@FoxNews) October 18, 2017
While appearing on "Fox & Friends" on Wednesday morning, Tomi Lahren was asked about the aforementioned feud between Donald Trump and the NFL, and she didn't hold back her thoughts.
"This is a serious question I have for these players that are in fact kneeling," Lahren said, while saying, "It's infecting the league."
The NFL has decided that it will not force players to stand for the playing of our National Anthem. Total disrespect for our great country!

— Donald J. Trump (@realDonaldTrump) October 18, 2017
"I would like to ask these players: What exactly are you kneeling for?" Tomi Lahren went on to wondered. "I bet if we asked 100 players we would get 100 different answered," she continued.
Twitter reacts
Not long after her appearance on Fox News, Tomi Lahren was hit with massive backlash on social media for her remarks. "Serious question: If @TomiLahren doesn't know, why is she booked on TV to talk about this topic?" CNN's Brian Stelter tweeted out.
Serious question: If @TomiLahren doesn't know, why is she booked on TV to talk about this topic? https://t.co/9iziZLQg1f

— Brian Stelter (@brianstelter) October 18, 2017
Imagine being this utterly clueless and then going on TV to advertise it.https://t.co/0A0TpNTb4t

— Kevin M. Kruse (@KevinMKruse) October 18, 2017
"They've said why literally hundreds of times.
To protest police brutality against innocent African Americans. Why is your dumb ass on TV?" Mikel Jollett wrote. "You know exactly the reason they are kneeling. But instead make it about the military to ignore the reason they are kneeling," Tony Posnanski added.
If Tomi doesn't know the answer by now, why the hell id she invited on to contribute? 🙄 They've been saying WHY since it began.

— 👠🍷Just a Girl 👠🍷 (@JustAGirl515) October 18, 2017
You know exactly the reason they are kneeling. But instead make it about the military to ignore the reason they are kneeling.

— Tony Posnanski (@tonyposnanski) October 18, 2017
They've said why literally hundreds of times. To protest police brutality against innocent African Americans.

Why is your dumb ass on TV?

— Mikel Jollett (@Mikel_Jollett) October 18, 2017
"Imagine being this utterly clueless and then going on TV to advertise it," Kevin M. Kruse noted. "If Tomi doesn't know the answer by now, why the hell id she invited on to contribute? They've been saying WHY since it began," another Twitter user wrote. As the negative reaction continued, the rift between those who support Donald Trump and those who stand by the NFL players showed no signs of slowing down anytime soon. #Nfl Players