Georgia looking to rest and refocus during bye week
No. 3 Georgia is in the playoff picture, but staying there requires all hands on deck.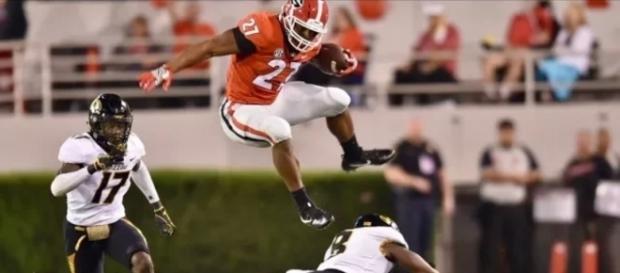 The #Georgia Bulldogs have made tremendous strides this season, as they have cracked the top four in the college football rankings. October is about the time where the rankings matter, as the CFB playoff committee begins to decipher who should fill those four spots to get into the playoffs. After their dominant 53-28 win against Missouri, the Bulldogs are heading into the #Bye Week in a great spot. They could be getting back more players from injury as well, so this bye week came at the right time for Kirby Smart and the Bulldogs.
Healthy returns
Georgia will have two key starters on both sides of the ball back in practice during their bye week.
Defensive tackle Trenton Thompson returned to the practice field Tuesday after he missed the last two games with a right knee injury. Thompson was a key part in the run defense when he was in the game, as he had 17 tackles through Georgia's first five games. Wide receiver Terry Godwin also took the practice field after leaving their game against Missouri with a rib injury. Godwin is the leading receiver for Georgia with 369 yards and 5 touchdowns. Jake Fromm will be happy to know his top target will be back after the bye week. Some more good injury news for Georgia is that linebacker, Reggie Carter has shed the club he has been wearing all season because of a broken bone in his left hand.
Playoff projections
Georgia has surprised many this season, having a perfect record through the first seven weeks of college football.
Nick Chubb has been sensational, racking up over 600 yards on the ground this season. Jake Fromm has played very well as the new starting QB, throwing 12 touchdowns and only three interceptions. They are sitting in the top spot in the SEC East, even though their schedule hasn't been that difficult.
The time is getting close to when the College Football Playoff Committee is going to take over the rankings and they do take into consideration a team's strength of schedule when ranking. Georgia might be undefeated, but their lack of a tough schedule might put them outside the top four, not allowing them to participate in the playoffs. Georgia will be facing Florida after the bye week, and that isn't an easy game, as Florida was ranked for a good part of the season.
Their toughest game for the rest of the season will be against No. 21 Auburn, as they will have a defense that is going to come after Fromm. If Georgia can win out the rest of the season, there should be no question that they should be in the top four.
If they begin to stumble, their playoff chances could vanish.
The bye week came at the perfect time for the Bulldogs, as they can get their key players healthy, and they can refocus for the playoff push that is ahead of them. Chubb and the Georgia offense would need to continue their dominance so the defense can play with a lead. The home stretch of the college football season is approaching, and Georgia is right where they want to be. A top-four team who is looking for their first playoff berth. #No 3