NBA: Toronto rolls past Chicago; Clippers defeat Lakers
The Toronto Raptors hosted the Chicago Bulls on Thursday night and took a comfortable home win.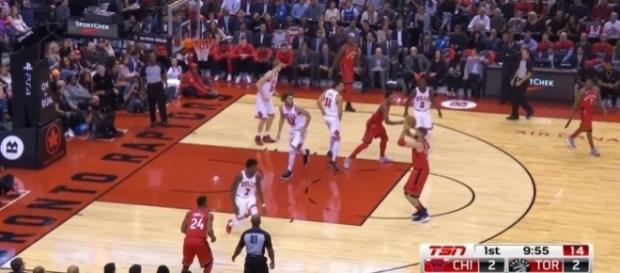 After an interesting opening night in the NBA as the season officially started on Tuesday night, there were three games played on Thursday night. The Toronto Raptors also hit the floor on Thursday for their first game of the season. The Raptors were looking to start the season with a win at home in front of their fans against the Chicago Bulls, as Air Canada Centre was crowded with more than 19,000 fans.
Toronto dominates Chicago in their season opener
The Raptors started off the game strong, taking an early 14-9 lead midway through the first quarter. They held a 25-23 after the first 12 minutes of the game and, from that point on, it was all Raptors.
Early in the second quarter, their lead was 20 points (45-25), and at halftime, the score was 58-37 for the home squad. Toronto was in total control of this one from the opening tip. Early in the third period, the Raptors had their biggest lead of the game at 65-41. Heading into the fourth quarter the score was 84-64 in favor of the home team. The Bulls were never really a threat for the Raptors on Thursday night, and the final score was 117-101 for Toronto.
The Raptors outrebounded the Bulls 49-39 in this one and held them to just 41.6 percent shooting from the field. Jonas Valanciunas was the leading scorer for the home team with 23 points and 15 rebounds. C.J. Miles added 22 points and five rebounds, while Kyle Lowry finished with 12 points and nine assists for Toronto.
Robin Lopez led Chicago with 18 points and eight rebounds.
Bulls rookie, Lauri Markkanen, finished the game with 17 points and eight rebounds while Justin Holiday added 15 points and four rebounds.
Clippers take the Los Angeles derby
It was also an interesting basketball night in #Los Angeles on Thursday with the Los Angeles Lakers hosting the Los Angeles Clippers. The Clippers jumped out to an early 27-19 lead after the first quarter and midway through the second period their lead was 12 points (38-26). The Clippers held a convincing, 53-42 lead at halftime. Doc Rivers' squad outscored the Lakers 34-21 in the third quarter and held an 87-63 lead heading into the final period of the game. They routinely closed out the game with a 21-point fourth quarter and ended up with an easy, 108-92 victory.
Blake Griffin led the way for the Clippers in this one. Griffin finished the game with 29 points and 12 rebounds in 33 minutes of playing time. DeAndre Jordan also played a great game as he scored 14 points and pulled down 24 rebounds. Lou Williams contributed with 12 points and six assists for the Clippers.
For the Lakers, it was Brook Lopez with 20 points and six rebounds who led them in scoring. Jordan Clarkson added 18, while Brandon Ingram scored 12 points and grabbed five rebounds for the Lakers. #Toronto Raptors #Chicago Bulls