Mitchell Trubisky & Bears edge Ravens 27-24 in overtime
Chicago received touchdowns from their two rookies and a huge field goal to win it.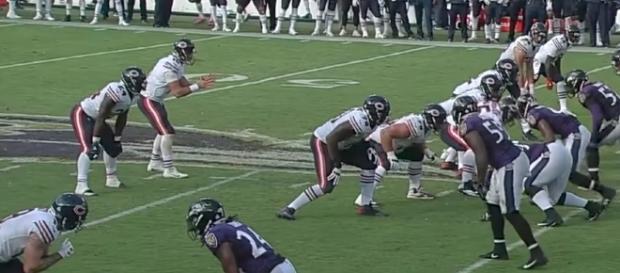 The future looks bright for the Chicago Bears fans if Sunday's game against the Baltimore Ravens is any indication. The team was able to take a lead into the fourth quarter, before finding themselves tied up 24-24 with the home team. While the game looked like it might go in favor of the Baltimore Ravens. Chicago managed to hit a huge Field Goal in overtime for a 27-24 win. Chicago's two rookies on offense were key performers in today's win. Here's a look at how the Bears vs. Baltimore game turned out with today's overtime victory.
NFL game recap
After a scoreless first quarter, the Chicago Bears finally jumped on the scoreboard in the second. A Connor Barth 24-yard field goal gave the team the lead 3-0 early on, but it was a surprise trick play that put Chicago up 10-0. Rookie Tarik Cohen was able to toss a 21-yard touchdown pass to Zach Miller for the touchdown. The Ravens added a field goal to make it a 10-3 game at the half.
In the third quarter, Chicago's other rookie helped his team out. In his second start, quarterback Mitchell Trubisky was able to find Dion Sims on a 27-yard pass for a touchdown.
That made it 17-3 in favor of the visitors. However, things fell apart when it came to special teams, as Bobby Rainey of the Ravens returned a kickoff 96 yards for the score. Another Justin Tucker field goal at the start of the fourth brought Baltimore within four, but Adrian Amos had a 90-yard interception for a touchdown for the Bears.
Tucker added another field g goal and it was 24-16, but it was once again the Bears' special teams that let a touchdown happen. Michael Campanaro had a 77-yard punt return for a touchdown and Joe Flacco found Nick Boyle for the two-point conversion.
The game headed to overtime, where each team had the ball for one series but failed to score. On Chicago's second series, they got close enough to field goal range and Connor Barth's 40-yard make gave his team the big win.
For today's game, the rookie Trubisky had an 8-for-16 performance with 113 yards passing and a touchdown. He wasn't picked off but was sacked four times for a loss of 23 yards. Ravens QB Joe Flacco had 180 yards on 24-for-41 passing and was intercepted twice including the scoring TD for the Bears. The Bears also got a monster contribution from Jordan Howard who had 36 carries for 167 yards in the game, helping them move the ball quite a bit.
Standings & what's next?
Today's win for the Chicago Bears is just their second of the season, and second in overtime as well. The team is now 2-4 overall and 1-2 on the road. For their next matchup, they play the Carolina Panthers on Sunday, October 22nd at 1 p.m. Eastern Time in Chicago.
The Baltimore Ravens fall to .500 with a 3-3 record overall and a losing 1-2 record at home. They'll try to bounce back next week when they take on the Minnesota Vikings on the road at 1 p.m. Eastern Time.
Click to read more
You will watch a video to read the news
or