The Milwaukee Bucks get their first regular season win over the Boston Celtics.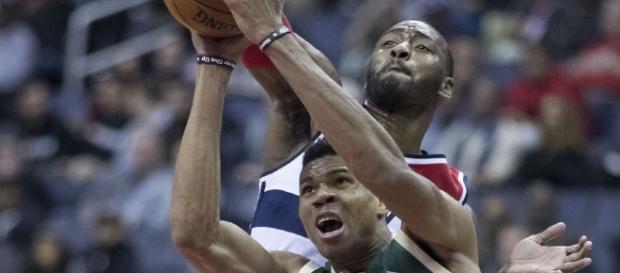 The Boston Celtics lost to the Milwaukee Bucks with the score 100-108 on Wednesday at the TD Garden in Boston Massachusetts. The game started off with a message from Gordon Hayward [VIDEO] from the hospital, who dislocated his left ankle and fractured his tibia in their opening game against the Cavaliers. The Celtics were still able to put up a fight, but it was not enough to defeat Giannis Antetokounmpo and the rest of the Milwaukee Bucks.
Jayson Tatum continues to shine
Despite the loss the eight-point loss, Jayson Tatum had another solid game against the Milwaukee Bucks. In his second NBA game, Tatum contributed eight points, nine rebounds, two assists, and one steal in 37 minutes.
He shot 42.9 percent from the field, zero percent from the three-point line, and 40 percent from the Free Throw Line. Tatum will now have a ton of minutes this season both in the four and three position.
Smart gets the start to replace Hayward
Marcus Smart moved into the starting line-up against the Milwaukee Bucks on Wednesday. He is not an All-star like Hayward, but he still played a solid game. He contributed 12 points, seven rebounds, four assist, and three steals in 32 minutes. He shot 30.8 percent from the field, 42.9 percent from the three-point line, and 16.7 percent from the free throw line. Smart has shot the ball poorly in his first two games; he will need to shoot the ball better in order for Kyrie Irving to get some help offensively.
Jaylen Brown continues to score
Jaylen Brown scored 25 lead the Boston in points against Cleveland on Tuesday, and last night he once again led the Celtics in points against the Bucks.
Brown was able to contribute 18 points (team-high), five rebounds, and three assists in 28 minutes. He shot 54.5 percent from the field, 66.7 percent from beyond the arc, and 80 percent from the free throw line. Jaylen Brown's offseason training is starting to pay dividends as he continues to impress NBA fans. The Celtics will have to continue to rely on Brown this season with Hayward out.
Kyrie Irving plays solid game
Kyrie Irving had a decent game for the Boston Celtics despite them losing to the Bucks. Kyrie was able to contribute 17 points, four rebounds, three assists, and three steals in 40 minutes. He shot only 28 percent from the field, 28.6 percent from the three-line, and 50 percent from the free throw line.Kyrie Irving had a decent game, but he will need to contribute and play better in order to fill the void Hayward left. Kyrie wanted to lead a team, with Hayward out Kyrie just got what he wished for in the most unfortunate circumstances.
Click to read more
and watch the video
or