Major defensive injuries from NFL Week 7
These notable players got injured this week and will be difficult to replace.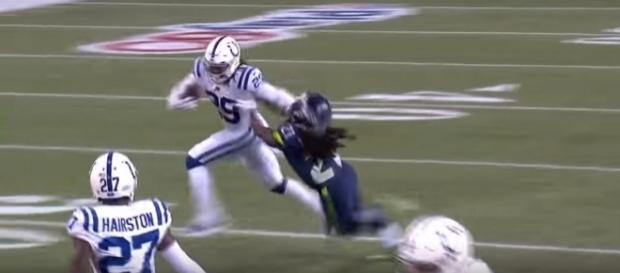 Week seven of the NFL season has almost wrapped up and teams are starting to assess the injuries that they suffered. The beleaguered defense of the indianapolis colts lost two starters in their secondary, including their first-round pick. Meanwhile, the San Francisco 49ers also saw their first-round pick depart from Sunday's game (Oct. 22). Finally, the Buffalo Bills lost a starting cornerback in their victory over the Tampa Bay Buccaneers.
Malik Hooker and Rashaan Melvin
Toward the end of the second quarter, rookie safety Malik Hooker was injured while trying to make a tackle on a 50-yard completion to Allen Hurns. He immediately grabbed at his right knee and limped off of the field before being taken to the locker room.
On Sunday night (Oct. 22), sources told NFL Network's Ian Rapoport that the first-round pick's season was over as he had torn his ACL and MCL. The Ohio State product had been one of the few bright spots for the team this year.
Rashaan Melvin was taken out in the first half of the game and did not return due to a concussion. He will now be put in the concussion protocol and will be out until he is medically cleared by team doctors and independent medical staff. Melvin was undrafted out of Northern Illinois in 2013 and bounced around the league. Last year, he found a home with Colts and worked his way into a starting role.
#Colts S Malik Hooker suffered a torn ACL and MCL today, sources say. The impressive rookie season for the first rounder is over.

— Ian Rapoport (@RapSheet) October 23, 2017
Colts: CB Rashaan Melvin (concussion) won't return vs. Jaguars (ESPN) https://t.co/N8z59aR5dw #Colts

— Colts In Command (@ColtsInCommand) October 22, 2017
Reuben Foster
Linebacker Reuben Foster had to leave the San Francisco 49ers blowout loss to the Dallas Cowboys in the third quarter due to a rib injury that he later reaggravated, causing him to not return. The first-round pick was already dealing with a sore ankle after having missed the last five games with a high ankle sprain.
After the game head coach Kyle Shanahan said, "he was cleared to go back in the game late in the fourth, but that was me. I held him out just at the end. I wanted to make sure we have him next week." Foster said after the game that he would get treatment and a scan on the injury. On Monday (Oct. 23), The Niners Wire's Chris Biderman reported that he heard that Foster only has bruised ribs and that he should be ok.
Report: Ribs bruised, not broken for Reuben Foster ... #49ers https://t.co/iAofaznp7W

— TheNinersWire (@TheNinersWire) October 23, 2017
E.J. Gaines
Cornerback E.J. Gaines had to exit the Buffalo Bills win over the Tampa Bay Buccaneers in the third quarter due to a hamstring injury.
This was his first game in two weeks as he missed the team's week five win over the Bengals and the team had a bye last week. ESPN's Buffalo Bills reporter Mike Rodak said on Monday (Oct 23) that Gaines was listed as day-to-day but added that the team had brought in some secondary help just in case.
Bills safety Jordan Poyer (knee) and cornerback E.J. Gaines (hamstring) are both listed as week-to-week. Coach... https://t.co/x42qjW5MGS

— Mike Rodak (@mikerodak) October 23, 2017
Day-to-day, I should say. https://t.co/ViVvZxnia6

— Mike Rodak (@mikerodak) October 23, 2017
The Bills have claimed CB Tony McRae off waivers from the Ravens. He adds much-needed depth at cornerback after... https://t.co/0P5UnTAY1h

— Mike Rodak (@mikerodak) October 23, 2017
Click to read more
You will watch a video to read the news
or