David Goffin steps up Tokyo quarter-finals after surviving tough clash
David Goffin eventually found a way to beat qualifier Matthew Ebden and set up a meeting with Richard Gasquet.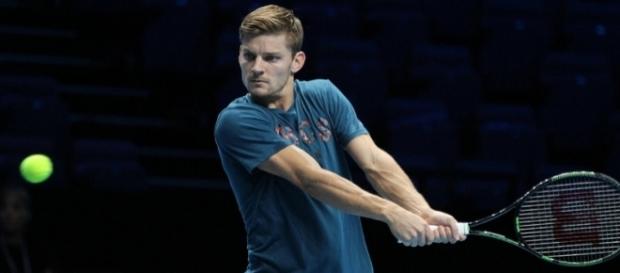 No. 4 seed #David Goffin has reached the Rakuten Japan Open Tennis Championships quarter-finals. Belgium's Goffin narrowly edged qualifier world No. 139 Matthew Ebden in Tokyo 2-6 7-5 7-6 (7-1). Goffin now has three wins and zero losses against the Australian.
Ebden started the match by taking a 5-0 lead. Goffin saved a set point on his serve in the sixth game to avoid a bagel. The Belgium got one break back to reduce the deficit 5-2. The qualifier quickly regrouped by breaking Goffin in the following game to close out the opener.
Goffin seemed to be cruising to a decider as he was up by 5-3 in the second set. Ebden made it all tied at 5-5 as Goffin failed to serve out for the set.
The Belgium then broke Ebden for a 6-5 lead before he served out for the set in the 12th game.
Goffin broke Ebden twice to take a comfortable 5-2 third set lead. Ebden refused to give up and made a miraculous comeback to make it 6-5 in his favor. Goffin stopped Ebden's run by serving out in the 12th game to clinch a tie-break. Ebden, who won the opening point of the tie-break, lost the following seven points and the match, eventually.
Goffin hit eight aces and broke Ebden five times during the match. Goffin also saved 8-of-14 of Ebden's break point chances. Luckily, the No. 4 seed didn't pay the price for the inconsistency shown on Thursday. The match came to an end after two hours and 20 minutes of action.
Goffin plays Gasquet next
Goffin is set to take on world No. 30 #Richard Gasquet in the Tokyo quarter-finals.
Frenchman Gasquet saw off world No. 63 Yen Hsun-Lu 6-0 7-6 (7-5). Gasquet and Lu met for the first time since 2010. The head-to-head record between the two now stands at 3-0 in Gasquet's favor.
Lu fell down 3-0 after blowing a game point in the first and third game, as well as two break points in the second game. One more break of serve in the fifth game gave Gasquet a comfortable 5-0 lead. The Frenchman then routinely served out for the opener in the following game.
Lu took a 5-3 second set after overturning an early 3-1 deficit. But, Gasquet fought back as he clinched a tie-break. Gasquet converted his second match point at 6-5 in the tie-break to put an end to Lu's hopes of reaching the quarter-finals.
Gasquet broke Lu five times during the match. Gasquet also saved 3-of-5 of Lu's break point chances. Just less than an hour and a half of action was the case.
Set to meet for the first time
Goffin, 26, and 31-year-old Gasquet have no previous meetings. The two will be clashing off for the first time on Friday in Tokyo. In-form Shenzhen Open champion Goffin is eyeing to win his second title in as many weeks. No. 4 seed Goffin is the favorite to beat Gasquet and reach the semi-finals. However, it won't be easy, as the experienced Gasquet is also hoping to have a winning campaign in Tokyo. #Quarter Finals