Chicago Bulls team falling apart before season even starts
An altercation between Bobby Portis and Nikola Mirotic yesterday ended in suspensions and broken bones.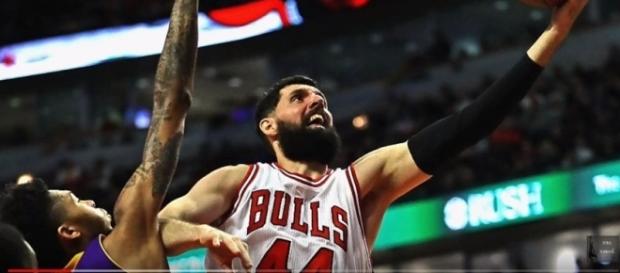 The Bulls will begin the first season of their rebuild Thursday night against the Toronto Raptors. However, the season opener is not the main topic of conversation right now, as the media focus is on the altercation between teammates Bobby Portis and Nikola Mirotic. Yesterday, it was reported that Portis punched Mirotic in the face which sent him to the hospital after a scuffle in team practice.
Mirotic suffered broken bones in his facial area as well as a concussion and will miss four to six weeks.
Surgery is very likely for Mirotic's injuries. Portis will be suspended eight games to begin the regular season. Bulls vice president John Paxson addressed the media this morning expressing his disappointment in the situation and said that while both players are responsible for the incident, Portis is the one who threw the punch.
GONE FOR EIGHT: #Bulls hand Bobby Portis an eight-game suspension following incident with Nikola Mirotic. MORE https://t.co/LwBKwX2XwB pic.twitter.com/4mmaev1Yr0

— SportsCentre (@SportsCentre) October 18, 2017
The incident
According to the reports, the two players were going at it in practice with some shoves and verbal exchanges. Mirotic is said to be the instigator of the incident as they started going at each other. According to K.C. Johnson of the Chicago Tribune, assistant coaches had to intervene to de-escalate the situation. Things got worse and the two started getting physical. After some shoving and arm swinging, Portis landed a punch directly to Mirotic's face which sent him to the floor where he remained still for some time.
Mirotic was taken directly to the hospital for evaluation, where he was diagnosed with a concussion and maxillary fractures in his face.
So far there is no video footage of the incident, and what transpired during practice is only known through the words of witnesses and NBA sources. Bulls center Robin Lopez told K.C. Johnson that this is not the first time the two players had altercations with each other, but obviously not to this degree. While Mirotic will have a month or more to recover from the injury he sustained in the fight, Portis will not play in the first eight games of the season, which leaves the roster incredibly thin.
Below is a tweet that contains a statement from John Paxson provided by 670 the Score sports writer Cody Westerlund.
John Paxson says both Niko and Bobby deserve blame but Portis crossed a line that's "inexcusable." pic.twitter.com/C5pqz3xvCQ

— Cody Westerlund (@CodyWesterlund) October 18, 2017
Not the way to start
The Bulls are beginning a rebuild phase this year, in other words, they are not set to be competitive this season. The roster was gutted in the offseason to start fresh and it was going to be an ugly year at the United Center regardless of who was playing.
However, Mirotic was re-signed as a free agent as a placeholder and Portis was a recent first round pick of the Bulls and possibly in their future plans. Both will be back at some point, but starting the season suspended/hurt [VIDEO]because of a fight is not a good way to start. It makes a team that has been dysfunctional for the past few years look even worse.
Portis will have a phone call with the league regarding the incident some time today, according to Adrian Wojnarowski.
Chicago's Bobby Portis has call set with NBA in New York today to discuss punch thrown at teammate Nikola Mirotic, league sources tell ESPN.

— Adrian Wojnarowski (@wojespn) October 18, 2017
With the roster thinned even more for the first few weeks, this can be a time to see what 20-year old rookie Lauri Markkanen can do. The young Finn is one of the few assets the Bulls currently have to look forward to in terms of the future. While Marrkkanen can hopefully provide some entertainment, it is set to be a very long year for Chicago Bulls fans.
Click to read more
and watch the video
or