Jaguars and Redskins make changes for the kicker
Jacksonville parted ways with Jason Meyers, while the Redskins lost Dustin Hopkins to injury.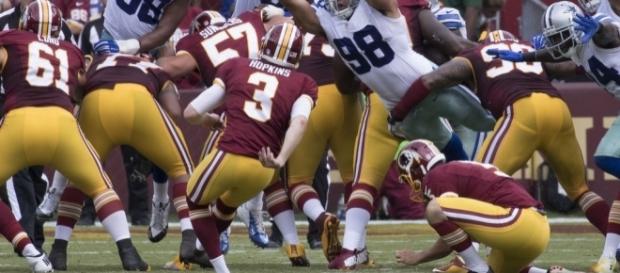 Prior to the start of week seven of the NFL season, two teams in the league have made changes at kicker for very different reasons. The Jacksonville Jaguars decided to make a change following Jason Myers struggles, while the Washington Redskins were forced to because of to an injury to Dustin Hopkins.
Jacksonville Jaguars make change at kicker
The Jacksonville Jaguars have released kicker Jason Myers following two missed 54-yard field goals in Sunday's loss to the Los Angeles Rams. He has gone 11-15 (73.3 percent) on field goals, with three of those misses coming from over 50 yards, and 15-17 (88.2 percent) on extra points.
In his 38 games with the team, Myers has been up-and-down, going 64-79 (81 percent) on field goals and 76-88 (86.4 percent on extra points).
To replace Myers, the team signed former Los Angeles Chargers kicker Josh Lambo, who was cut in the preseason by the team. In his two seasons with the Chargers, Lambo was 52-64 (81.3 percent) on field goals and 70-78 (89.7 percent) on extra points.
Jaguars are releasing kicker Jason Myers and signing former Chargers kicker Josh Lambo, per source.

— Adam Schefter (@AdamSchefter) October 17, 2017
Redskins lose Dustin Hopkins
The Washington Redskins have placed kicker Dustin Hopkins on the short-term injured reserve list, meaning that he must miss at least eight weeks before he is eligible to return.
That would be on December 17th for the team's Week 15 game against the Arizona Cardinals. Hopkins has been dealing with a right hip rotator muscle strain, which head coach Jay Gruden called "pretty significant for a kicker."
Losing Hopkins is a big loss as he is 9-11 (81.9 percent ) on field goals and 12/13 (92.3 percent) on extra points this season. In the 36 games he has played with the Redskins, Hopkins is 68-81 (84.0 percent) on field goals and 87-92 (94.6 percent) on extra points. This will be the first time in his career with the Redskins that Hopkins will miss games.
#Redskins have placed kicker Dustin Hopkins (hip) on IR & signed free agent kicker Nick Rose, who will make his NFL debut Monday vs Eagles.

— Deb Carson (@DebCarson) October 18, 2017
Sign Nick Rose to replace him
To replace Hopkins, the Redskins went out and signed unproven kicker NIck Rose. He went undrafted out of the University of Texas in the 2016 draft, signing with the Atlanta Falcons soon afterward. Rose was released by the Falcons last August during preseason cuts.
The San Francisco 49ers signed him to a reserve/future contract in January and waived him September 1st as part of final preseason roster cuts.
Rose has yet to kick an NFL field goal but he was 27-38 (71.1 percent) on field goals and 71-74 (95.9 percent) on extra points during his college career. According to the Washington Post's Dan Steinberg, he will become the 22nd kicker for the team in the last 24 years, six more than the 49ers and Giants.
#Redskins are signing K Nick Rose, who has spent time in the preseason with the Falcons and Niners, sources tell @RapSheet and me. Big leg.

— Mike Garafolo (@MikeGarafolo) October 17, 2017
Nick Rose will be Washington's 22nd field goal kicker in 24 years. No other NFL team comes close https://t.co/i7mz3LXABv

— Dan Steinberg (@dcsportsbog) October 18, 2017