New England Patriots: Bill Belichick on N'Keal Harry, 'It's been good, he's worked hard'
Don't miss our Facebook page!
Like Blasting News page on Facebook: we will keep you updated with all the latest news.
The Boston Red Sox have lived to see another day. After getting trounced in the first two games of the American League divisional series, Boston fought back in Game 3 of the best-of-five series staving off elimination with a 10-3 victory at Fenway Park on Sunday afternoon. It was tense in the beginning, but the Sox turned the tide late against the Houston Astros, at least for one day.
Red Sox bats come to life in Game 3
For the first time all series, the Boston Red Sox finally strung together some key hits and produced enough runs to give their team a victory in the 2017 postseason.
Despite a rough first inning by Boston pitcher Doug Fister, the Red Sox overcame a 3-0 deficit as they hammered Houston pitchers for the first time in the entire series.
Hanley Ramirez led the charge for the Bosox as he finished 4-4 on the day, driving in three runs and scoring twice in the Red Sox win. Ramirez wasn't just Boston's best hitter on Sunday; he was the biggest inspiration and motivator as well. Ramirez waved a ''Believe in Boston'' flag during pregame introductions, drawing cheers from a Fenway Park crowd fearful of a second straight postseason sweep.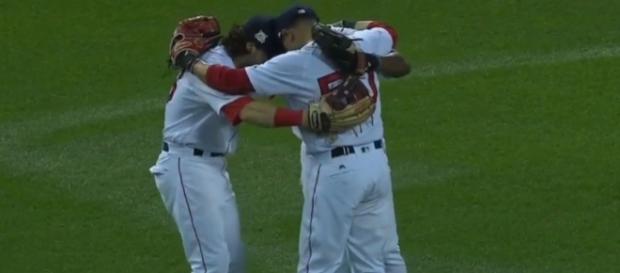 ''I just tried to wake everybody up,'' Ramirez said after the game. ''I think that's my job: Find a way to come through in big situations,'' the designated hitter said. ''It's the playoffs. It's go time.''
Now the Red Sox will once again play a win or go home game Monday afternoon as they try to force a "winner take all" Game 5 in Houston on Wednesday, October 11.
Porcello looks to right the ship
This time of the year most teams are in an "anything goes" mode, and for the Red Sox, you can bet that they will throw everything they can at the Astros to try and force a series-deciding Game 5.
According to MLB.com, the Red Sox will send Rick Porcello to the mound, while the Astros will counter with Charlie Morton.
To say Rick Porcello has been a disappointment in 2017 is an understatement, however, if he can lead the Sox to a win on Monday, all will be instantly forgiven. Porcello was incredible in 2016, finishing the year at 22-4 and winning the AL Cy Young award. In 2017 Porcello has had an ERA of near or over 5.oo all season as he finished the regular season at 11-17.
How to watch live, Las Vegas odds
Las Vegas oddsmakers have installed the Houston Astros as a slight favorite in Monday's Game 4 at -120, with the over/under run total set at 10.5. Fans can watch every pitch of Game 4 of the ALDS between the Houston Astros vs. Boston Red Sox nationally on FOX Sports1. The game will also be available streaming live online through the FOX Sports Go app. Game time is scheduled for just after 1 p.m. ET from Fenway Park in Boston, Massachusetts.
Click to read more
and watch the video