George and Melo could have been in Cleveland, LeBron's X-rays negative
Cleveland could have acquired Melo and George on draft night and LeBron rolled ankle in practice.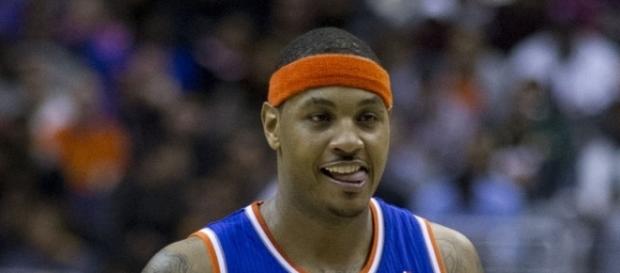 Training camps are currently underway with teams now getting familiar with their newly formed rosters. The Cleveland Cavaliers are working hard in the hopes of making an NBA Finals appearance for the fourth straight time. It was reported that LeBron James rolled his ankle during practice and sat out practice. The Oklahoma City Thunder are also underway in their training camps as they try to improve chemistry with Russell Westbrook, Paul George, and Carmelo Anthony.
Cavs would have had Melo, George, and LeBron core
Carmelo Anthony and Paul George are two players this offseason that was available on the trade market. This month Paul George [VIDEO] and Carmelo Anthony got traded to the Oklahoma CIty Thunder [VIDEO].
But before they got together in Oklahoma, there were rumors that they could have teamed up with LeBron James in Cleveland. Ian Begley of NBA ESPN has reported that Anthony believed that he was going to join George in Cleveland during draft night.
During that night. Anthony said that he and George were communicating about the possibility of heading to Cleveland Cavaliers. The deal was supposed to be a multiple team trade that involved the Denver Nuggets, with the Indiana Pacers sending Paul George to the Cleveland Cavaliers. Despite the deal falling through on draft night, Carmelo Anthony and Paul George still ended up on the same team at the end of the offseason. Entering training camps, the Oklahoma City Thunder are looking like a newly formed super team with Russell Westbrook, Paul George, and Carmelo Anthony.
LeBron James misses Thursday practice
LeBron James has been one of the most athletic players in the NBA despite his age due to the attention and work he puts into keeping his body in shape. Tom Withers of Associated Press has reported that LeBron James suffered a rolled ankle at the Cleveland Cavaliers practice on Wednesday evening. LeBron underwent X-rays to see if it was anything serious. Luckily for Cleveland fans, the X-rays on James' ankle came back negative. Despite that, LeBron still sat out the teams Thursday practice to rest and let his ankle recover.
LeBron James and the Cleveland Cavaliers will enter this season with a substantially new lineup in Isaiah Thomas, Jae Crowder, Ante Zizic, Kendrick Perkins, Derrick Rose, Jose Calderon and Dwyane Wade. Despite the departure of Kyrie Irving to the Boston Celtics, the Cavaliers still look very tough in the Eastern Conference as they remain the favorites to make it back to the NBA Finals.
Click to read more
and watch the video
or