Cameron Payne to miss a couple of months due to injury; Blazers keep Connaughton
Payne injured his foot earlier this month and he is expected to miss the start of the 2017/2018 season.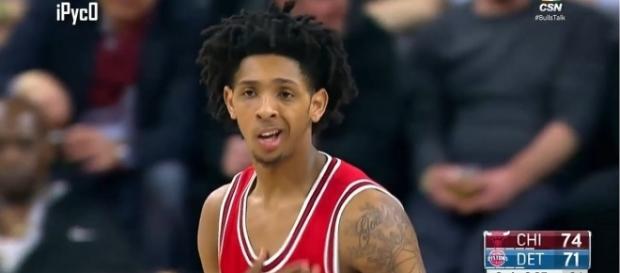 It has been quite an eventful summer so far for the Chicago Bulls. After making the playoffs narrowly last season with a 41-41 record in the Eastern Conference, the Bulls decided to retool their roster this summer. The Bulls are apparently tired of being a mediocre team in the Eastern Conference season after season, and so they decided it is time to start rebuilding. It all started at the beginning of the offseason in July when Chicago made a blockbuster deal with the Minnesota Timberwolves.
The Bulls traded Jimmy Butler to the Wolves in exchange for Zach LaVine and Kris Dunn hoping that LaVine and Dunn can become the next big stars in the NBA and lead the Bulls to the promised land.
Also, as a part of the Bulls' rebuilding process, the team acquired Cameron Payne from the Oklahoma City Thunder midway through last season.
Payne out due to injury
ESPN's Nick Friedell reported a couple of days ago that Chicago's young point guard, Cameron Payne, will likely miss a couple of months of playing time next season due to his foot injury. Reportedly, Payne fractured the fifth metatarsal of his right foot during a workout earlier this summer, and he will miss the start of the 2017/2018 season. It is still unknown when will he undergo surgery on his foot.
The 23-year-old Payne was the 14th pick in the 2015 NBA Draft, drafted by the Oklahoma City Thunder. He spent his first season with the Thunder averaging 5.0 points, 1.5 rebounds and 1.9 assists per game. The 6-foot-3 point guard from Memphis joined the Bulls in 2016 and played 11 games for Chicago last season.
He played an average of 12.9 minutes per game last season and added 4.9 points, 1.5 rebounds and 1.4 assists per game while shooting just 33 percent from the field. The Bulls are hoping to have him back healthy as soon as possible, as he and Kris Dunn are expected to lead the team on the court [VIDEO] from the point guard position.
Connaughton remains a Trail Blazer
Pat Connaughton will wear Portland Trail Blazers uniform for at least one more season as the Trail Blazers decided to keep him on the roster for the 2017/2018 season. Portland had time until Thursday afternoon to waive Connaughton before his $1.4 million salary for 17-18 became guaranteed, and they decided not to waive him. Connaughton was the 41st pick in the 2015 NBA Draft, drafted by the Brooklyn Nets. He is a 6-foot-5 shooting guard with good shooting skills. His three-point shooting has improved dramatically since his rookie year, as he connected on 51 percent of his three-pointers last season. Connaughton played 39 games for the #Portland Trail Blazers last season and averaged 2.5 points and 1.3 rebounds per game while shooting 50 percent from the floor. While his shooting has been impressive lately, his defense leaves a lot to be desired. #Chicago Bulls #Cameron Payne