Bucks waive Spencer Hawes; Trail Blazers part ways with Nicholson
The Milwaukee Bucks have decided to waive Spencer Hawes using the stretch provision.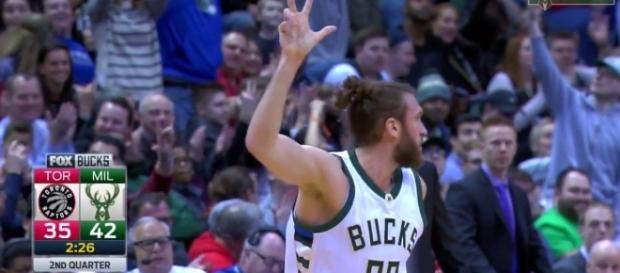 The #Milwaukee Bucks have stayed relatively quiet so far this summer when it comes to roster changes. In fact, the Bucks haven't signed any marquee free-agent this offseason and the fans are wondering is the roster they have now [VIDEO] enough to compete in the East next season?
Milwaukee finished sixth last season in the Eastern Conference standings with a solid 42-40 record, and many expect them to be even better next year. Led by their biggest star and best player, Giannis Antetokoumpo, the Bucks made it to the first round of playoffs last season but got knocked off by the Toronto Raptors in six games. Can Milwaukee advance to the second round of the playoffs for the first time since 2000/2001 season? We'll see next year, but they will have to do so without the services of #Spencer Hawes as the team decided to waive him.
Hawes becomes a free-agent
Adrian Wojnarowski of ESPN reported that the Milwaukee Bucks have decided to waive Spencer Hawes using the stretch provision. Hawes had one year and $6 million left on his contract with the Bucks, and by waiving him Milwaukee will get under the salary cap and avoid paying the luxury tax next season.
Milwaukee plans to waive Spencer Hawes, league sources tell ESPN. Bucks using stretch provision on his $6M salary to get under luxury tax.

— Adrian Wojnarowski (@wojespn) 1. rujna 2017.
Hawes will become a free-agent after the Bucks waive him and there are some teams in the NBA that could use his services. Hawes is a 10-year NBA veteran, and he has proven over the years that he's a solid contributor on both ends of the floor. The 7-foot-1 Hawes was the 10th pick in the 2007 NBA Draft, drafted by the Sacramento Kings.
He spent his first three seasons in the league with the Kings, before joining the Philadelphia 76ers in 2010. His best season was during the 2013/2014 campaign with the Sixers, as he averaged 13.0 points and 8.5 rebounds per game. Hawes played 19 games for the Bucks last season and averaged 4.4 points and 2.4 rebounds per game while shooting 34 percent from the three-point line.
Portland waives Andrew Nicholson
ESPN's Adrian Wojnarowski also reported that the Portland Trail Blazers and Andrew Nicholson have parted ways as the Blazers decided to waive Nicholson. By waiving Nicholson, the Blazers will save approximately $5.6 million in luxury tax this year.
Portland acquired Nicholson earlier this summer in a trade with the Brooklyn Nets but they obviously feel his services will not be needed next season. Nicholson is a 6-foot-9, versatile forward with solid length and athleticism. The 27-year-old from Canada played 28 games for the Wizards and 10 games for the Nets last season. He was the 19th overall pick in the 2012 NBA Draft and holds career averages of 6.0 points and 3.0 rebounds per game. #Portland Trail Blazers