New York Yankees must give Adam Warren more opportunities
Over the past three months, he has arguably been the team's best reliever.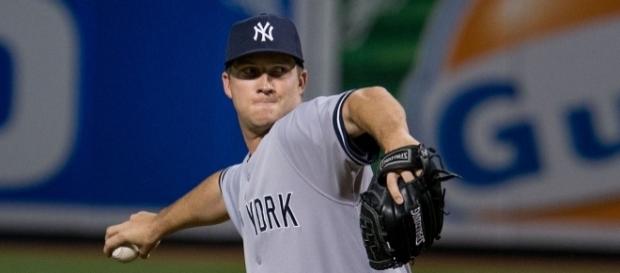 #Adam Warren sits far below other relievers in the #new york yankees' bullpen pecking order. There's closer Aroldis Chapman, dominant setup man Dellin Betances, plus two players acquired specifically at the trade deadline: David Robertson and Tommy Kahnle. It may be the best bullpen in all of the baseball, but it breeds competition and hierarchy. After another solid performance on Wednesday, it may be time for Warren to make his move up the chain.
Warren shines bright like a diamond
Warren was called upon in the bottom of the seventh inning - the Yankees sported a 5-3 lead over the New York Mets in the third game of their Subway Series rivalry.
After two balls, Dominic Smith flew out to center for the first out. The next two at-bats took progressively longer, but the results were almost the same; Rene Rivera flew out to center field as well, while Brandon Nimmo struck out looking to end the inning.
Warren got the call again in the bottom of the eighth inning and things started off treacherously after Juan Lagares laid down a bunt for a single. But that was all she wrote for the Mets in the inning, even as the heart of the order came to the plate. Asdrubal Cabrera went down looking, while Yoenis Cespedes went down swinging. Finally, Michael Conforto grounded out to second to end the inning; the Yankees went on to win by the same 5-3 score their ace reliever adequately maintained.
Making the case for Warren
After a solid start to the season, the converted starter had a five-game blip that could've derailed his season.
He gave up two runs and blew a save on May 14. He gave up three runs and blew a save on May 19. Again, he gave up two runs and blew a save on May 23. Two of those three games resulted in losses for the Yankees. Since then, however, Warren has been an almost unstoppable force of nature.
(updated after 8th inning)

Adam Warren Since May 27:
27.2 IP
0.65 ERA
27 K
5 BB https://t.co/Hp4awlD4nB

— Katie Sharp (@ktsharp) August 17, 2017
In five appearances in June, Warren didn't give up a single run - the next best full-time reliever on the team at the time was Chapman, who gave up one earned run in five appearances. In July, Kahnle slightly surpassed Warren for the month, who in turn matched Chad Green in ERA (albeit in fewer innings).
He is currently in competition with Robertson and Betances this month, as all three have given up no earned runs in August. In terms of top three relievers for the Yankees in each of the past three months, however, only Warren appears each time - how can someone that consistent not garner more opportunity for the rest of the season? #MLB