Jim Johnson disastrous for Atlanta Braves
As Braves fans know, this is just par for the course for the relief pitcher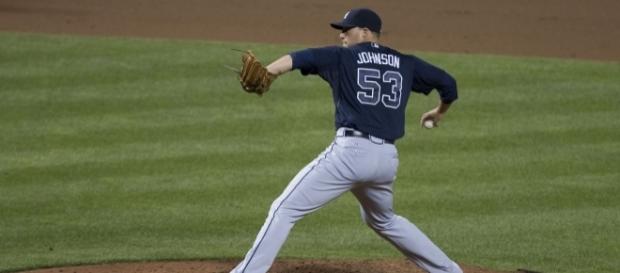 #Jim Johnson should invest in a roller coaster company when his tenure with the #Atlanta Braves comes to an end. He seems to trend on Twitter almost every other night and it's almost always because of a disastrous turn out of the bullpen. He can't be THAT bad, considering the team's propensity to pitch him several times a week. It was that bad on Wednesday night, however, when his implosion led directly to a loss.
Johnson versus the eighth inning
When Johnson came on to pitch during the eighth inning, the Braves led the Seattle Mariners 5-4. First, he faced Jean Segura, who smacked a double to left field. That's a good hitter, though.
Next up was the always threatening Yonder Alonso, who drew a walk. Before the next batter could inflict any damage, Johnson threw a wild pitch, placing both runners in scoring position with no outs.
Then, the fun really began for Seattle. Taylor Motter singled to center field, flipping Seattle's deficit to a one-run lead. Danny Valencia followed that up with a single, blissfully ending Johnson's night. The erstwhile reliever faced four batters, allowing all four to reach base and failing to record a single hit. As for those two batters he left on base? They came home pretty quickly as Kyle Seager hit a three-run homer off of Dan Winkler. Atlanta went on to lose the game 9-6.
Braves can't learn their lesson
Back in July, the team removed Johnson from the closer role after a prolonged slump that seemed to last the entire season.
Since June 21, he has given up 20 earned runs despite the fact that he's only pitched in 19.1 innings. His ERA for the season is 5.69. Every time he takes the field at SunTrust Park, he is booed all the way back to the dugout by the Braves faithful.
Lately, it's gotten even worse. He's given up at least one earned run in each of his past four appearances. He gave up two earned runs - including a homer - while recording just one out on August 13 against the St. Louis Cardinals. He gave up one earned run at the Colorado Rockies on August 17. Things turned particularly ugly on August 19, when he surrendered four earned runs in an innings of work against the Cincinnati Reds - those wound up being the deciding runs of the game. Then, there was Wednesday night's disaster. Somehow, the Braves only lost two of those four games pitched by Johnson. Every night is a problematic roller coaster ride with him, though - and to think he has another year left on his contract. #MLB