Are the Warriors and Cavaliers ruining the NBA Playoffs?
The Warriors and Cavaliers have both remained undefeated in the 2017 NBA Playoffs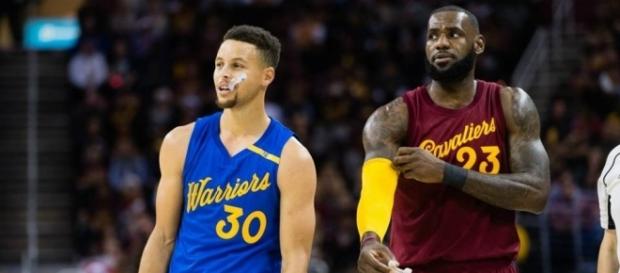 The Golden State Warriors and the #Cleveland Cavaliers have remained undefeated in the 2017 #NBA Playoffs by winning most of their games in blowout fashion. Both teams have looked flawless on both sides of the ball. The Warriors have been dominating with their usual barrage of three's the entire 48 minutes. The Cavs, on the other hand, have dominated by crushing their opponents with their well-balanced offensive scoring.
The performance both the Warriors and Cavs have put on in this year's playoffs have brought up speculation as to whether or not this is ruining the excitement of the post-season.
Best in the west
The Golden State Warriors are almost en route to their third consecutive NBA finals appearance if they can win two more games in the Western Conference Finals.
This season, four of their starters were selected to play in the NBA All-Star game. They rested their star players enough this season to have them healthy for the playoffs, which has definitely worked to their benefit.
During the 2017 playoffs, the Warriors ran through the Portland Trail Blazers without Kevin Durant for three of the four total games. In the conference semifinals, the Warriors were able to get Durant back and he made sure he put his DNA all over the series by averaging just under 25 points a game. In the western conference finals, the Warriors have met their best competition yet in the San Antonio Spurs. In game one, Spurs forward Kawhi Leonard led his team to a stunning 25 point lead at one point during the game.
Leonard went down to injury in the third quarter and the Warriors battled back from a 25 point deficit to win the game.
Stephen Curry and Kevin Durant combined for 74 points and carried the same energy into game two to remain undefeated in this year's playoffs.
Beast of the East
The Cleveland Cavaliers are the reigning NBA champs after dethroning Golden State in last year's NBA Finals. Although the Cavaliers finished second in the Eastern Conference this season, they have shown throughout the playoffs having home-court advantage doesn't matter. In the first round of this year's post-season, the Cavs swept the Indiana Pacers without breaking a sweat. In the second round, they swept a Raptors team that took them to six games in last year's eastern conference finals.
In the Eastern Conference fFnals, the Cavs opened up game one with a bang on the home floor of the Boston Celtics. Lebron James and Kevin Love combined for 70 points as the dominated the game from start to finish.
Good or bad for NBA Playoffs?
Although the dominance of the Cavs and Warriors has seemingly sped up the playoffs, it has been exciting to watch.
To say that teams are ruining the playoffs because they are playing at a higher level than their opponents sounds very uncompetitive. The Warriors and Cavs will both only inspire more teams to up their level of play if the want to have any shot at winning an NBA title. More importantly, it should teach star players how co-existing with each other can lead to many years of being at the top. #ruining post-season