LeBron, Kyrie and Kevin combined to break a record in game two
The Cleveland Cavaliers big three once again did something special, this time it happened during game 2 of the first round.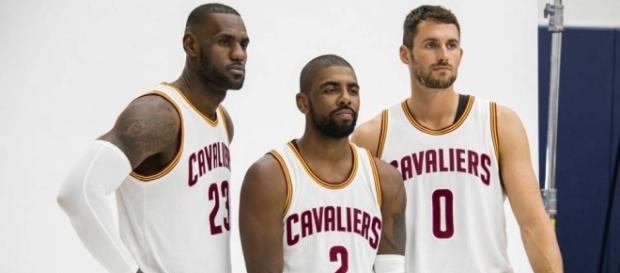 #LeBron James, Kyrie Irving, and #Kevin Love just made playoff history, scoring atleast 25 points each in game two against the Pacers. They combine to be one of the most feared trios in the NBA. LeBron can shoot jumpers, score in the paint, find open players with on-point passes, grab rebounds, block shots, get in the passing lanes for steals, draw charges. LeBron can basically successfully do everything the game of basketball has to offer. Kyrie, on the other hand, excels as arguably the best ball handler in the league, to go along with an accurate jump shot, a solid passing ability and a great finisher at the rim. And finally, Kevin Love, a man who often gets under appreciated, is one of the elite rebounders in the league, has a knock down three point shot, a brilliant full court passing ability and a range of low post moves to score in the paint.
All these three players share a combination of talents, which combine to make them one of the best trio's if not the best trio in the NBA.
This great trio has made history once again. While they haven't always been healthy enough to play together as a unit in recent history, at this point they are, and setting records while doing so.
The Cavaliers big three make history
Game two of the first round between the Cleveland Cavaliers and the Indiana Pacers marked the first time in the Cleveland big three eras, which all three players scored above 25 points together in a playoff game. This is a good sign for the group, with a whole playoff run ahead of them, a performance like this being this early in the postseason may be a good sign for the rest of the playoff run.
There had been a few occasions where Kyrie Irving and LeBron James had scored 25+ in a playoff game, notably game 5 of the 2016 NBA Finals where both Kyrie and Bron broke a record, being the only players in NBA Finals history to drop 40 or more points together in a game.
While Kevin was injured throughout most of the 2015 playoff run and was unable to find his own in much of the 2016 playoff run, it hindered his chance to join the fellow big two in the feat. But after coming off his best season as a Cavalier, Kevin Love has full confidence to keep putting up great numbers on a nightly basis, and will surely break more records and have his most successful postseason to date.
Can they keep this up?
While this was the first time in the NBA playoffs the Cavs big three had all scored 25 or more points in a game together, there is no doubt in my mind that there will be more games as such to come. All three players had their highest scoring seasons of the Cavaliers big three era, and the Cleveland team is scoring at its highest clip of the era too. Kyrie Irving averaged 25.2 PPG this season, Kevin Love averaged 19.0 PPG and LeBron James averaged 26.4 PPG, they almost became the first trio to average 20+ PPG in Cavaliers history. #Cleveland Cavaliers