When Calls the Heart's Erin Krakow gets in fall spirit, shares foggy photo shoot
The leading lady, of this popular Hallmark Channel drama, dons a different wardrobe and wistful expressions in new photos.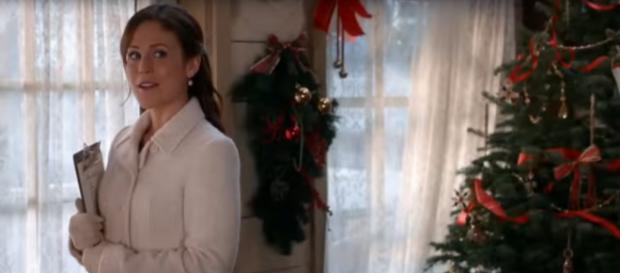 Actress Erin Krakow has become endeared to millions of "When Calls the Heart" fans during the past five seasons of Hallmark Channel's most beloved TV drama. The brunette beauty reciprocates the love from fans on social media and certainly shows off her humorous side. She has shared many captions and photos from the set of "When Calls the Heart" while the show is in production in Vancouver. Recently turning 34, Erin Kraków already has a long roster of television roles, both in movies and series, from "Army Wives" to her current portrayal of teacher Elizabeth Thornton, set in the rugged Northwest Territory community of Hope Valley.
Fans already have markers in hand to highlight the date of the start of Season 6 early in 2019, and Erin Kraków knows better than most how confining, however lovely, a pioneer woman's wardrobe can be. Managing movement and gentility underneath voluminous petticoats can be daunting, and still, the weather conditions of the times demand wearing multiple layers. Erin Kraków shed her on-screen wardrobe for a simple sweater and some lace in photos shared on Twitter, September 23, and a fall mood and fog filled the air.
I haven't the foggiest idea what to caption this...
📸: Ricardo Hubbs
💄: @MirrorAtelier
💆🏻‍♀️: Jillian Tymos pic.twitter.com/OEki4U59eO

— Erin Krakow (@erinkrakow) September 24, 2018
Curls and captured in thought
Just weeks ago, Erin Kraków captioned a lovely photo of a red fall leaf with thoughts that she "wasn't quite finished with summer yet." Many others likely agree, but the calendar and climate always progress through the seasons, and on this photo shoot, the star seems quite content and comfortable with the coming of fall.
Her hair is styled in a curly bob, styled by Julian Tymos, as the actress credits, and she cuddles in an oversized gray sweater. Set against a foggy backdrop, one of the photos by Ricardo Hubbs captures a reflective Krakow in quiet thought. The star's mood is clearly not too serious, though, as she teases that "I haven't the foggiest idea what to caption this..."
Tried to catch the fog. I mist.
📸: Ricardo Hubbs
💄: @MirrorAtelier
💆🏻‍♀️: Jillian Tymos pic.twitter.com/u1SQFXSRm2

— Erin Krakow (@erinkrakow) September 23, 2018
She continues the fall and fog references in two more shots, one of a more standard "strike a pose" variety, and the other exhibiting a radiant laughing and smiling vision of Kraków, her arms loosely draping over a glass-paned ledge, with her legs tucked onto the stool, as a black lace border is revealed under the sweater.
The display might look shocking to community residents on "When Calls the Heart" but the star consistently conveys class, spirit, and femininity in positive ways.
Happy Fall y'all!
📸: Ricardo Hubbs
💄: @MirrorAtelier
💆🏻‍♀️: Jillian Tymos pic.twitter.com/9GQDM6blcA

— Erin Krakow (@erinkrakow) September 23, 2018
Ready for a busy season
That relaxed pose might be that last chance for Erin Kraków to catch her breath for a while. Fans are eagerly awaiting two Christmas delights with her characters in focus for the Christmas season.
One is "Marrying Father Christmas" alongside her "When Calls the Heart" co-star, Niall Matter, and the other is the Christmas movie for 2018 which will lead into Season 6 of her drama. The holiday installment will give fans the first peek at an obviously expectant Elizabeth as she prepares for the arrival of her child, and children will be at the center of the story, as Hope Valley unites to ensure that stranded orphaned children celebrate a joyful Christmas. "A Cookie-Cutter Christmas," starring Erin Kraków from 2014, will also remain in rotation on the Hallmark Channel's holiday roster of non-stop seasonal celebration, which begins October 26.
There's no reason for Erin Kraków to get all bundled up for winter's cold just yet, but it never hurts to get cozy, and "When Calls the Heart" will be warming hearts for another season in no time.
This news article has been verified through:
https://twitter.com/erinkrakow/status/1044060033774841856
https://twitter.com/erinkrakow/status/1043913605932957696