Kristen Bell wasted no time diving deep into the mud at this year's SAG Awards. The first ever host of the event decided she was going to recognize the moment by drawing a parallel - or a perpendicular - with the first lady of the United States. The joke was a brave one, considering how people usually hold the president in contempt, rather than his wife. But this is a new world we live in - if Kristen Bell wants to go after Melania Trump, she's going to go after Melania Trump.
Bell shoots her shot
Bell opened the show by talking about how she was the first host in the history of the SAG Awards. She joked about how that made her the first lady, a title she never thought she would own. She then continued on the first lady idea by talking about what her first initiative would be: cyberbullying. That, of course, was the initiative Melania Trump (ironically) took on what she became the FLOTUS.
Kristen Bell opens #SAGAwards by dragging Melania Trump: "I think my first initiative will be cyberbullying, because I have yet to see any progress made on that problem quite yet."pic.twitter.com/466r6s8wQk

— Remove Trump Now (@KaniJJackson) January 22, 2018
While not addressing the first lady by name, it was clear to everyone in the audience who Bell was targeting with that joke.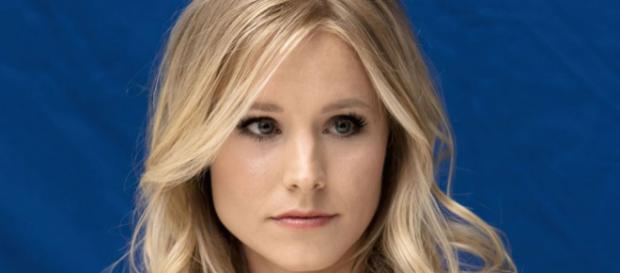 Trump's initiative fell by the wayside while her husband has used the first year of his administration to bully everyone he can with his Twitter account. Hollywood does not like the Trump administration, so the logic follows. Still, it was actually a bit jarring for the first comment of the night to involve FLOTUS, rather than the Time's Up movement that stands to dominate the speeches of the SAG Awards.
Early SAG Awards moments
Bell had some more PG jokes at the beginning of the SAG Awards, trying to unite the crowd around her next big movie, "Frozen 2." She also poked fun at Steve Carell and made it a point to sit next to husband Dax Shepard in the audience.
But while she stunned in a pink dress on the red carpet, she hosted in black, in solidarity with the Time's Up movement.
The night's big moment early on related to Time's Up, but happened on the SAG Awards red carpet. Alison Brie, nominated for her work in "GLOW," was asked about the allegations against her brother-in-law, James Franco. She stated that she would need more information before turning on a family member, but pleaded for those who felt victimized by men to continue to come forward as they have been.
The night is still young, though. Stay tuned to see if Bell has any more zingers, or to see if the comments about FLOTUS get back to POTUS, leading to a tweet from Donald Trump about the SAG Awards in the midst of a government shutdown.
Click to read more
and watch the video