Watch the video of the news article
Don't miss our Facebook page!
Like Blasting News page on Facebook: we will keep you updated with all the latest news.
Every year the Kardashian/ Jenner clan get together to celebrate their Christmas in a very particular way. They have been publishing their family photos on Christmas for years. But last year they didn't seem to go for the family tradition because of Kim Kardashian's Paris robbery ordeal and Kanye's breakdown. But this year they are all preparing again for their very famous tradition and for giving the fans another reason to celebrate. It has also been confirmed that Kim is the CEO and she is going to organize the whole Christmas Card shoot.
Fans are already going crazy about it. They are super excited about the fact that Kylie Jenner, who was recently rumored to be pregnant, will confirm the fact. She and her sister Khloe Kardashian who is also rumored to be pregnant may reveal their baby bumps on that occasion. The Christmas fun includes a slew of holiday cards. This year's already-famed Kardashian card countdown is in full swing, and Kardashian talked about it on her app.
However, it is said that Kanye has refused to join the get-together because he is clearly engaged in his work.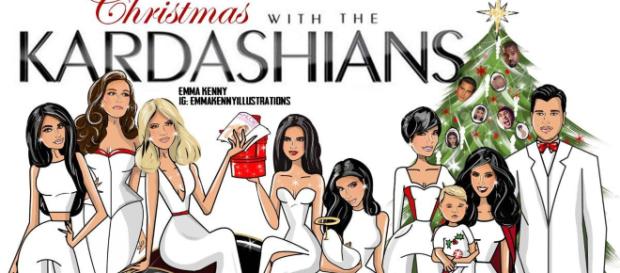 Kim wants him to be there. The absence of him will obviously disappoint the fans. As the Kardashians are known for their lavish appearance, they will surely make it amazing. They never fail to surprise the fans. Although, the recent card of the Kardashians did not include any adults and only features the younger generations. Let's see what they will bring this year!
These are some obvious facts that the Kardashians will focus during the preparation of Christmas:
The Planning
It always takes a lot of work and efforts to ensure a successful party. But they will have so many helping hands. Kayne being absent will surely disappoint Kim.
The Vibe
Creating the right atmosphere is very important. This is something the Kardashians never fail to create. If it is Halloween or Christmas, they always come up on top.
The Food
A party is incomplete without good food. Kim has apparently unique taste. She has been tweeting about food for quite a long. Fans love her choice of food and responding very well.
The Drink
At a party like this, the guest's should never be empty. We are so sure that the Kardashians will never let that happen.
The party will surely be full of good wine and good food.
The Kardashian family is known for celebrating special occasions in style, from beautiful baby showers to elaborate birthdays, and Christmas is no exception.
Click to read more
and watch the video