Meghan Markle brings good luck to Prince Harry
While their marriage plans are being finalized, there is good news for Prince Harry who gets a promotion.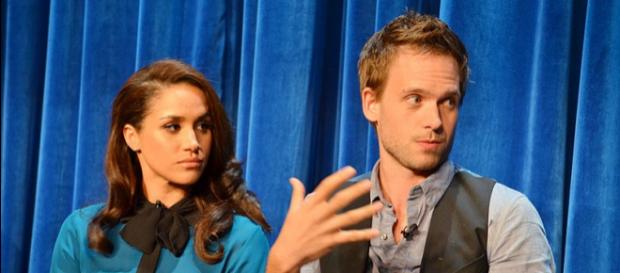 Kensington Palace has made an important announcement regarding Prince Harry who will marry Meghan Markle on May 19, 2018. The announcement is about a promotion for the Royal Prince who will take over charge as Captain General Royal Marines from Prince Philip who is his 96-year old grandfather.
US Magazine reports that Prince Harry has already begun preparations to take over his new assignment and accompanied Prince Philip, the Duke of Edinburgh, on his last day as Captain General. Prince Philip had been appointed in 1953 by King George VI, the father of Queen Elizabeth, and held the position for 64years.
Good news for Meghan Markle
The timing of the promotion is significant because it comes on the heels of the announcement that Prince Harry (33) and Meghan Markle (36) are engaged to get married. He is an experienced helicopter pilot while she is a Hollywood actress. The date of their marriage and venue have been finalized as indicated by Kensington Palace.
The two of them are reportedly staying at Nottingham Cottage in London's Kensington Palace. Their tentative plans are to celebrate Christmas with Queen Elizabeth and members of the Royal family. Subsequently, they plan to proceed on a short vacation before welcoming 2018 which is expected to be a busy one.
A fairytale romance gets wings
The story of Prince Harry and Meghan Markle is a fairytale romance of a Royal prince and a Hollywood star. The Sun UK has released a few interesting details about Meghan who was born and raised in California but shifted base to Toronto, Canada, for the filming of the TV show "Suits." She acted in other TV series like sci-fi thriller "Fringe" where she portrayed the role of an FBI special agent. She was also seen in "CSI: Miami" on the small screen. As far as big screens go, she has acted in "Get Him to the Greek (2010)", "Remember Me (2010)" and "Horrible Bosses (2011)."
In November 2016, Kensington Palace confirmed that she was the girlfriend of Prince Harry and added that the Prince was worried for her safety because of the curiosity of the media.
In February 2017, they were seen together in public. Later, in May 2017, she came to a game of polo where Prince Harry participated and attended the wedding of Pippa Middleton. They rounded off the year by announcing their marriage.
She, like Prince Harry, loves charity work and is the Global Ambassador for World Vision Canada. She visited Rwanda to promote the organization's Clean Water Campaign, and Afghanistan to support US forces and their families.
Click to read more
You will watch a video to read the news
or