'General Hospital' spoilers tease that Kim and Drew may be married
Oscar's mom has been slow and deliberate in giving information on her past with his father. Hiding a past wedding would be right up her alley.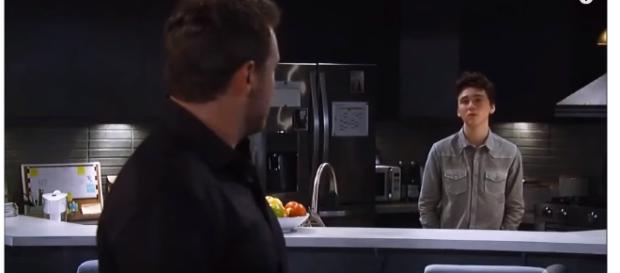 On "General Hospital" Oscar's mom Kim has been very slow and deliberate, with the answer she gives regarding her past life with Drew. She admitted that she knew him but it took a while to tell him that Oscar is his son. On Tuesday Sam tried to gain more information from the woman who has a child with her once and possibly future spouse. Now according to Celeb Dirty Laundry, Kim might be hiding a bombshell of a secret. The spoiler alert teases that she and Drew may have had a quicky wedding before he was deployed. If this is true it would put Sam's plan to remarry Jason's twin on hold or even cancel them.
Kim's role in the Jason Sam Drew love triangle
"General Hospital" viewers were told that it would take nine months to sort out all the details regarding the twin sons of Alan Quartermaine. Executive producer Frank Valentini also promised many twists and turns in the situation. The revelation that Kim had a past relationship with Drew and that Oscar is their son is a big one. Fans knew it would take a while for Jason and Sam to find their way back to each other, but no one could have predicted this new addition to the love triangle.
If indeed Kim and Drew were married this adds an additional stumbling block in the path of Sam trying to work things out with Scout's father. Sam is trying her best to hold on the life she is now living and pledged her loyalty to Jason's brother. They recently found out however that they are not legally married but decided to renew their vows. If Drew already has a wife, then he would need to have that marriage dissolved, but Kim may have other plans.
Kim's motive may be the key to the mystery
Kim's slow and deliberate method of releasing tidbits of information may indicate she has an ulterior motive.
It's also possible that her timing in coming to Port Charles may not be a coincidence. There are six months and many episodes to go before the entire truth is known about Drew's past. The fact that Obrecht is back in action, talking to Faison and Nathan is questioning his paternity may all be key to this mystery.
Spoilers from Celeb Dirty Laundry suggest that Drew may begin to recall his past life and this may be problematic for Sam. He is already attempting to connect with his teenage son so if he begins to remember his past with his baby mama the feelings for Oscar and Kim may grow.
By the time the nine-month arc is over, Drew may decide to have a life with Kim and Oscar and leave Sam behind. She will then probably feel pretty bad for not choosing Jason as soon as his identity was confirmed. Stay tuned weekday afternoons at 2:00 PM on ABC for more episodes of "General Hospital."
Click to read more
You will watch a video to read the news
or