Sasha Pieterse talks 70-pound weight gain and 'Pretty Little Liars' spin-off
Sasha Pieterse reveals more information on "Pretty Little Liars" project and weight gain.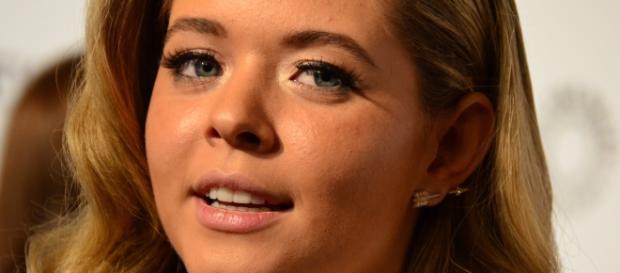 Sasha Pieterse (who just performed the samba on Tuesday with her partner Gleb Savchenko on "Dancing with the Stars") revealed the cause of her 70-pound weight gain. During Tuesday's episode, she revealed that she gained around 70 pounds over the course of two years, as she suffers from a hormone imbalance called "polycystic ovary syndrome." Pieterse went on to explain the hormone imbalance as "one of the hardest things I've ever been through," to Erin Andrews. The former "Pretty Little Liars" star went on to say that before she was diagnosed she "had no idea what was going on."
Pieterse's weight loss results
Actress Sasha Pieterse also revealed on Tuesday that since starting "Dancing with the Stars" she has already lost 15 pounds.
This is what the actress had to say about her weight loss "Now, I'm seeing results," Pieterse told Andrews. She also commented on how she feels mentally after losing weight. "I think most importantly, I'm feeling like me again," the actress stated to Andrews.
As mentioned previously, Pieterse and Savchenko performed the Samba on Tuesday night. The song that the dance couple sambaed to was "Most Girls" by Hailee Steinfield. It should also be mentioned that the dance earned them the score of 22/30 from the judging panel. It is safe to say that Pieterse was more than happy with the song choice for her dance. This is what she had to say about the song "I love this song because it really resonates with me about what I've been through and what I'm still going through," Pieterse told Andrews.
After the actress and her partner got their scores, they went on to be interviewed by Andrews. In Pieterse's interview, she commented on how her 70-pound weight gain affected her mentally. This is what she had to say "I feel like I've always been a happy person, and I've been so blessed with an amazing family and friends.
But...I don't know." However, When Pieterse was asked about her weight loss experience on "Dancing with the Stars" by Andrews she commented saying, "I went through a hard time, so feeling like me again, it means the world, honestly."
Her new project
In other news, Pieterse just recently announced that "Pretty Little Liars" would be getting a spin-off. The spin-off is entitled "Pretty Little Liars: The Perfectionists, " and it will star Pieterse and also another "Pretty Little Liars" actress Janel Parrish. Pieterse, of course, played the high school bully turned sweetheart Alison DiLaurentis while Parrish played fan favorite, Mona Vanderwaal. Karey Burke, the Vice President of programming and development of Freeform, revealed the following about the spin-off " We can't wait to continue Marlene King's rich and revolutionary storytelling with a new crop of leading ladies from Beacon Heights who will hold just as many secrets and lies as Rosewood did."
Click to read more
and watch the video
or