The Mavericks spice up 'Saturday Sessions' with a shake of country Latin swing
Rate this title
Much beloved live band defies categories and prefers their own sound without brand.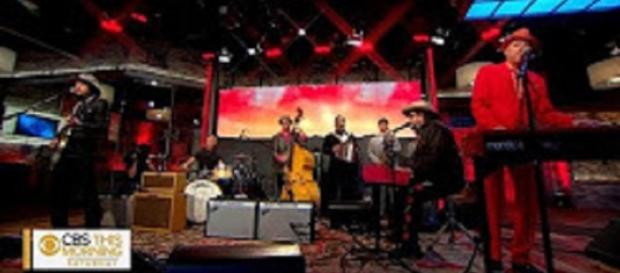 The Mavericks didn't take long to make their name in the music scene after founding in Miami in 1989. The energy, joy, and consummate passion that the band members share as performers is an instant draw to virtually any music-loving crowd. The Mavericks quickly made a name for themselves, but also confounded the music industry, with their unique merging of country, Latin, Americana, and swing vibes that never fit under any of the labels that promoters and managers love to throw around on tours. Defining their own genre didn't stop the band's rise, and the Mavericks won a Grammy in 1995 for Best Country Performance by a Duo or Group for "Here Comes the Rain."
CBS Evening News anchor and "CBS Saturday Morning" host, Anthony Mason, unabashedly heaped praise on the Mavericks for their September 23 "Saturday Sessions" appearance.
Mason has cultivated the award-winning music segment into the premiere stage for artists worth noticing, and the Mavericks have made several returns. The morning host has interviewed some of the most luminous and lasting performers in music, and today he praised that the Mavericks were the band he would "like to run away with," without any hesitation.
Members Raul Malo, vocalist and guitarist, drummer Paul Deakin, keyboardist Jerry Dale McFadden, and guitarist Eddie Perez have been to the heights and dipped down through some valleys in their years together, and even parted ways, but the music is and its power always pulled them together again. The exuberant band offered their own spice to wake up Saturday morning in their set for "Saturday Sessions," and described the magic they feel onstage.
Indefinable by design
Raul Malo insists that keeping The Mavericks music a mystery is "by design," while the lead vocalist's tones are unmistakable, a modern Roy Orbison-esque mixed with a touch of Sinatra's elegant swagger, surrounded by the musicianship and showmanship that make any show by The Mavericks a memory to treasure. "Everybody has a bit of a ham factor," Malo also chimes in, referencing how incidental embellishments such as Jerry Dale McFadden's dance across the stage have now become demanded inclusions. The color, both sonically and in personal style, that provoked a crowd in an English pub used to purely punk music to fall for The Mavericks has never faded.
The band is huge in the UK, with chart success that supersedes their US hits, even after being named Vocal Group of the Year two years running by the Academy of Country Music.
Roots and new beginnings
The Mavericks broke up in 2004, but it was while Raul Malo was asked to complete a song with a friend in 2011 that he couldn't shake the feeling that it sounded like a Mavericks tune.
The song became "Back in Your Arms," and from the moment they began playing in the studio, "it was back," says Eddie Perez. The music keeps the musicians, and their fans, coming back night after night.
The Mavericks recently played to audiences in Cuba, to be featured in a PBS special airing October 6. The experience was a "roots and wings" epiphany for Malo, whose parents came from Cuba. Seeing how people found happiness "where there probably shouldn't be any" was life-changing and inspiring for the singer. He is left with a "profound appreciation" of all that this country stands for.
Taking the stage
The Mavericks opened the morning set with "Easy As It Seems" from their album, "Brand New Day." The cool Latin shuffle probes deeper beneath its backdrop. "Ignorance is blindness, people say its bliss," echo the lyrics that urge listeners to look around them. "Ride With Me" is a boisterous romp of a road trip, with accompaniment from Perez, accordions, and the full horn section supporting the travelogue set to music. There couldn't be a better start to a Saturday morning, and the Mavericks are sure to be around for more brand new days and bouncing, bopping nights.
Click to read more
and watch the video
or