Latest scoop on 'Annabelle: Creation' and 'Cult of Chucky' revealed
A new trailer titled 'Ghost' was recently released for 'Annabelle: Creation' while Tiffany doll is making a 'Cult of Chucky' comeback.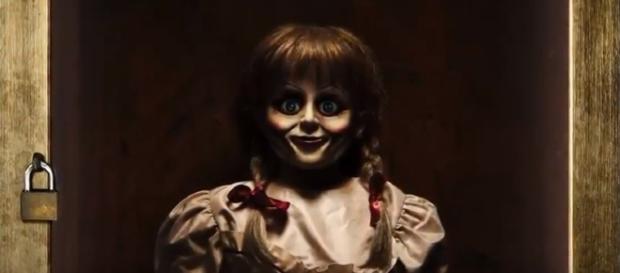 Fans are excited about the upcoming release of the popular horror franchises, "Annabelle: Creation" and "Cult Of Chucky" this summer. We have the latest scoop about these horror spin-offs — from a newly released trailer to the highly anticipated comeback of a beloved character.
It's safe to say that 2017 is the year of spin-offs and sequels for popular and classic Hollywood movie franchises, particularly when it comes to the horror/thriller genre. In fact, several spin-offs are scheduled for release starting this August, including "Annabelle: Creation" on Aug. 11, "Amityville: The Awakening" on Aug. 31, "Saw 8: Jigsaw" on Sept.
8, "Cult of Chucky" on Oct. 3, "Leatherface" on Oct. 20, and Stephen King's "It" on Oct. 29.
New trailer 'Ghost'
New Line Cinema released a new spooky clip titled, "Ghost," for the highly anticipated prequel in "The Conjuring" cinematic universe. The two-minute video showed there might be something creepy behind the closet door where the evil-possessed doll Annabelle was kept.
Apart from the new clip, Dread Central also showed a series of new photos from the upcoming film, which will depict the origins of the demonic Annabelle doll. It will also follow the story of a doll maker and his wife, who tragically lost their own daughter.
Filming
In other related reports, "Annabelle: Creation" actors recently opened up about their experiences while filming. According to Anthony LaPaglia and Miranda Otto, who portray the roles of Samuel and Esther Mullins respectively, the atmosphere on the set was not scary at all.
In fact, Otto revealed that they have a "very relaxed and chilled out set."
LaPaglia, on the other hand, said that "creepy" things happened in-between takes. Aside from the set, they also revealed that "girl power" plays a big part in the movie, saying some of the female characters might take the audience by surprise.
Furthermore, the duo also gave some details on the house where the filming took place. The interior was reportedly built inside a sound studio, while the exterior was a real house at the filming location on Big Sky Ranch.
Babysitting Annabelle?
Meanwhile, Warner Bros. Pictures and New Line Cinema invited some celebrities in the U.K. to participate in an "ultimate scare challenge" of babysitting Annabelle in a spooky Victorian mansion erected on the Old Town Hall site in Stratford, East London. The celebrities who took the challenge include James Buckley, Nikki Grahame, Talia Storm, Tina Stinnes, Olivia Bentley and Lucy Watson. The horror experience lasted for 20 minutes.
Tiffany doll returns in 'Cult of Chucky'
Aside from "Annabelle: Creation," another creepy doll-themed horror film will also be released this year and it's none other than — "Cult of Chucky." Previous reports have already hinted the plot details but recent updates teased the return of one beloved character — Tiffany the doll, who was last seen in 2004's "Seed of Chucky."
Based on the latest photo shared on Twitter last week, the Tiffany doll, who is best known as the Bride of Chucky, will make a comeback in the film. The doll's human version, played by Jennifer Tilly, is also part of the movie. While in another photo released Tuesday, Chucky was seen stalking the hallways of a psyche ward.
Look how the blood on the window brings out the red around her eyes. What a babe. #BTS #CultOfChucky pic.twitter.com/DU4GTAFrEY

— Cult Of Chucky (@cultofchucky) July 27, 2017
Shit. This picture of me is artsy. #BTS #CultOfChucky pic.twitter.com/AwiqGauztn

— Chucky (@ChuckyIsReal) August 1, 2017
Based on the film's synopsis, the plot will focus on Nica Pierce (Fiona Dourif), who got confined in a criminally insane asylum. But Chucky's archenemy Andy Barclay (Alex Vincent) will try to save her. However, things might get deadly as he needs to get past Tiffany, who's willing to do anything for her evil doll lover.