'Insecure,' and 'Ballers' Renewed at HBO
The network has finalized deals with the series' creators, and may soon premiere the new episodes.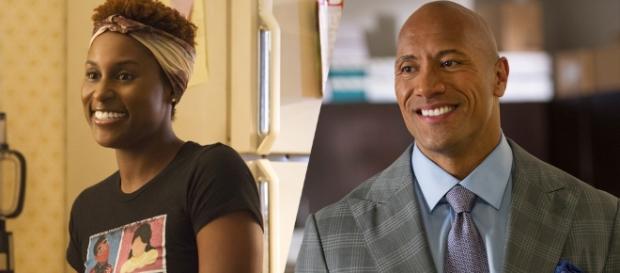 HBO has renewed "Ballers" for season 4 and "#Insecure" for season 3, the network announced on Wednesday.
"We are thrilled because the summer lineup may connect us with our viewers in a better way," said HBO Vice President Amy Gravitt.
Mr. Amy Gravitt feels proud to work with Dwayne Johnson, Yvonne Orji, and all of the amazing talents in both series. "Insecure" and "Ballers" returned for their current seasons on Sunday, July 23.
'Insecure'
"Insecure" may return for new season on HBO in 2018. Created by Issa Rae and Larry Wilmore, this series follows the friendship of two young ladies as they deal with their own flaws while attempting to navigate different horizons and cope with some uncomfortable things.
In 2016, at HBO's Television Critics Association session, producer Melina Matsoukas and showrunner Prentice Penny said that it would examine the complexities of blackness and the reality that you could escape being black. According to the Hollywood Reporter, "Insecure" creator Issa Rae shared on social media that the show was returning. HBO followed soon after with a press release confirming pickups for both "Ballers" and "Insecure."
The show sees its ratings mushroom this season, thanks to being part of a Sunday lineup that consists of "#Game of Thrones." Through three episodes, "Insecure" averaged a 0.6 rating among adults (18-47) and 1.17 million viewers for its initial airing. Issa Rae, Yvonne Orji, Lisa Joyce, Jay Ellis, Natasha Rothwell, and Amanda Seales are series' regulars.
'Ballers' is also returning
"Ballers," which features Dwayne Johnson in the lead, has also benefited from the "GoT" lead-in.
Stephen Levinson has created this American comedy. The show explores the life of a former football superstar as he tries to find the same success off-the-field as a financial manager in Miami.
In addition to Dwayne Johnson, the show features Rob Corddry, John David Washington, Omar Miller, Donovan Carter, Troy Garity, London Brown, Jazmyn Simon and Arielle Kebbel. Deadline reports that its ratings are double last season's average of 0.6 and 1.18 million viewers.
In the meantime, we'd like to tell you that a security breach at HBO led to the personal phone numbers and email addresses of some "Game of Thrones" stars leaking online. Hackers broke into HBO's systems and stole 1.5 terabytes of data, including scripts for upcoming episodes of "Game of Thrones," "Ballers," Room 104" and "Insecure." The network claims it is reviewing what data has leaked as part of an ongoing investigation. #Baller