Video: Disney names its 'Star Wars' themed lands 'Galaxy's Edge'
'Star Wars' fans rejoice as Disney names its new 'Galaxy's Edge' attraction and reveals a video of the land model and more exciting details.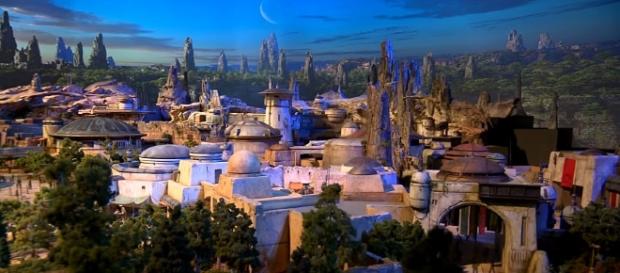 Fans will have the opportunity to visit a spectacular location in a galaxy that is not quite so far, far away, as Disneyland and #Walt Disney World named their new upcoming attraction in Orlando "Star Wars: Galaxy's Edge."
Land model released of 'Star Wars: Galaxy's Edge'
Judging by the land model included in the video below which was revealed at the 2017 D23 Expo on Saturday, visitors will be able to immerse themselves in a realistic "Star Wars" environment in "Galaxy's Edge," with great attractions and rides, including a stay at the "Star Wars" hotel. At the latter, guests get to wear appropriate costumes and interact with other guests in an exciting immersive story.
Fans will have a while to wait, however, as the Chairman of Walt Disney Parks and Resorts, Bob Chapek officially announced that the attraction is set to open in 2019. Speaking at the D23 Expo back in 2015, it was announced that one of the rides would involve taking the Millennium Falcon into a realistic dogfight with the First Order forces. Now Chapek reveals another attraction which will allow visitors to go into battle from a Star Destroyer's hangar bay.
The Star Wars-themed lands coming to @WaltDisneyWorld and @Disneyland will be called Star Wars: Galaxy's Edge #D23Expo pic.twitter.com/cMFgvvHU49

— Disney D23 (@DisneyD23) July 15, 2017
Meet popular 'Star Wars' characters
While visiting "Galaxy's Edge," fans will get to meet many of the popular film characters, including stormtroopers and officers, those famous droids R2-D2 and BB-8 and even Chewbacca himself.
The LA Times reports rumors are doing the rounds that Rex the droid may appear as a DJ in the "Galaxy's Edge" cantina.
Rex will return for Star Wars: Galaxy's Edge with a new job. #D23Expo2017 pic.twitter.com/L9UtzowMOU

— Inside the Magic (@InsideTheMagic) July 15, 2017
Immersive stories and role play at the 'Star Wars' hotel
The "Star Wars" hotel is a new and innovative experiment dubbed Disney 360. This allows hotel guests to participate in role play with other guests, all in full costume, in what Disney dubs a "climactic battle between the First Order and the Resistance." The hotel rooms will closely resemble the bunks on a starship and bars and restaurants will feature droid servers, pouring you a tasty glass of Aunt Beru's blue milk.
Jump to Hyperspace! Just announced, #StarWars: Galaxy's Edge will allow you to pilot the Millennium Falcon! https://t.co/JiJdmhzQhP pic.twitter.com/VY0jnixzLv

— WDW Today (@WDWToday) July 15, 2017
At the D23 Expo Thursday night, a miniature of the "Galaxy's Edge" attraction was unveiled, together with a video tour through the attraction's land model, which is included here.
The land model shows suitably familiar earth-colored dome buildings and a number of recognizable spaceships parked between the buildings, including a TIE fighter and an X-Wing Starfighter.
Disney Imagineer Scott Trowbridge gives more detail about the exciting new "Star Wars" project in the video tour below.
As noted by Entertainment Weekly, other announcements besides the "Star Wars" attractions at the D23 Expo involved the replacement of the outdated "Universe of Energy" ride with an exciting "Guardians of the Galaxy" experience. There will also be a new ride at Epcot based on the film "Ratatouille" and another based on the "Tron" film at Walt Disney World in Orlando. There are also plans for an overhead tram ride connecting the various Florida parks. #Star War #Galaxy Edge