Steve Carell and Kristen Wiig had the best skit of the night at the Golden Globes
Watch the two suck the joy out of animated movies in this hilarious skit.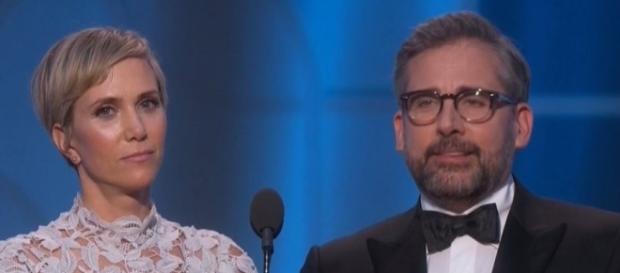 Steve Carell and Kristen Wiig were the highlight of the night, and definitely the life of the party when it came to the Golden Globes which premiered on Sunday. The two took the award for best comical joke and skit. At the ceremony, the duo teamed up to introduce the Best Animated Movie. Steve and Kristen were extremely entertaining, yet miserable as well. First off, they were humorously critical of themselves, such as when Wiig stated, "We get out haircuts together," and Carell answered back with "I'll have what she's having…like the orgasm."
Steve's first animated film was 'Fantasia,' and it didn't have quite the magical ending
The "Despicable Me" co-stars continued their skit with their own memories of the first animated film they had ever seen.
Steve started off by telling his story of when he was six-years-old and his dad took him to see "Fantasia" and how it was a life-changing experience. He described that as they were leaving the theater, he saw his mom standing in the lobby and that was the moment she told his dad...she wanted a divorce (cue laughter). He went on to say he never saw his father again after that day.
Wiig described her first animated film as well
Kristen went on to talk of her first animated film --"Bambi." She explained that it was the same day they had to put her dogs down.
Her Grandfather thought it would be fun to go to the movies to get their minds off of it. But, Bambi's mom obviously dies. It was also the last day she saw her Grandfather, and she didn't speak to him for two years (cue more laughter). The two continued to stand on stage for a long period of time, not speaking, to let the effect really pack its punch, and the audience loved it. Almost everyone in the room gave them the longest applause of the night, and it was much deserved.
Could they be the next Golden Globe hosts?
The dynamic duo got the most laughs by far.
Perhaps, with that kind of chemistry, they may host a future ceremony together. If their chemistry last night was any indication, audiences would surely love to see more of the pair.
Click to read more
You will watch a video to read the news
or