Andrea Riseborough airs shocking weight loss in 'Witness for the Prosecution,' 'Bloodline'
Learn the creepy secret behind 'Birdman' star Andrea Riseborough's anorexic bird-like look in Agatha Christie remake, Netflix thriller 'Bloodline.'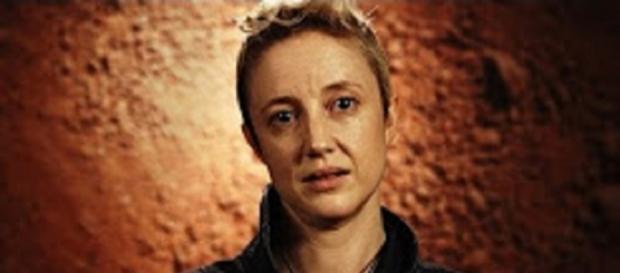 Brit beauty Andrea Riseborough may not be a household name in the US but all that's about to change in the new season of the Netflix thriller "Bloodline." Riseborough also appears in the chilling new remake of Agatha Christie's "Witness for the Prosecution." If you knew her from "The Devil's Whore" or "Oblivion" or "Nocturnal Animals," you're in for a shock. In "Witness for the Prosecution" the actress appears skeletal. Here's the creepy reason for Andrea's bizarre weight loss.
Andrea Riseborough is bird-like after 'Birdman'
In the 2014 Oscar-winning "Birdman" (with Michael Keaton and Zach Galifiankis), Riseborough plays pretty, sexy Laura.
In all her roles, the Newcastle-upon-Tyne native is svelte and hot. In "The Devil's Whore" she's downright voluptuous. But as the mysterious Romaine in the Agatha Christie movie, she looks scary skinny. Romaine (renamed from the original "Christine" of the play) is an Austrian WWI refugee. She becomes a chorus girl in post-war London. In 1923, it was fashionable for women to be anorexia thin. A war survivor may also be emaciated and Andrea sure nailed that.
Andrea Riseborough's starvation diet
The "Witness for the Prosecution" role was popularized by Marlene Dietrich and later Dame Diana Rigg, but neither played it as a waif-like, seductive Roaring Twenties chanteuse. To do so, a normal-sized woman would have to lose weight. In an interview with Jimmy Kimmel, Riseborough discussed her starving artist period where she ate little, slept rough and was basically homeless.
She got so ill that she passed out. But this was sometime back and not related to this particular part. She didn't discuss any eating disorder or crazy dieting, either.
Many faces of Andrea Riseborough
Stranger still is that for her role in Netflix's "Bloodline" (also in 2016), Riseborough appears normal. Perhaps, like Golden Globe nominee Denzel Washington in "Fences" and Jamie Foxx in various parts, she can transform at will. In one interview her legs, shoulders and face appear fleshed out. Yet in the Jimmy Kimmel interview three weeks ago, her face is gaunt. It's hard to tell about the rest of her body because she sports an over-sized sweatshirt. Andrea appears to favor a punk style, with combat boots and an equally fitting hairstyle. She covers her heavy Northumberland accent very effectively. Interestingly, the character of Romaine is enigmatic and so is the actress who plays her. But, what is acting but a series of metamorphoses? #AndreaRiseborough #WitnessfortheProsecution #Weightloss