'Teen Mom' Amber Portwood blasts STFU as boob job, plastic surgery fail hits raw nerve
Amber Portwood aims for Marilyn Monroe mommy makeover in Botox, breast implants, tummy tuck, facelift, platinum blonde, ends up as weird cosplay look.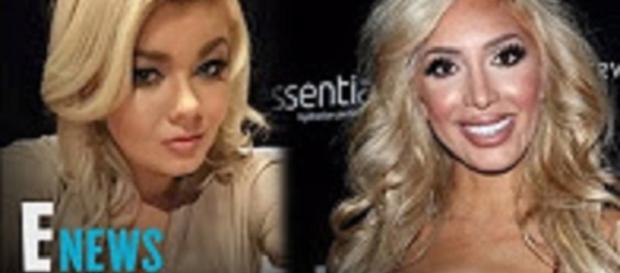 What "Teen Mom" Amber Portwood was aiming for with plastic surgery and what she ended up with proves the Rolling Stones right--you can't always get what you want. Portwood went for a Marilyn Monroe mommy makeover complete with boob job, tummy tuck, facelift, new eyebrows, Botox, platinum blonde hair, the works--but walked out looking like she was dressed for Halloween as some weird manga cosplay caricature. When critics told her so, Amber took to social media to send a general STFU message. 
Amber Portwood: "Shut the f--up" on plastic surgery fail already! 
When forthcoming comments on said plastic surgery were less than favorable, Portwood opened up with a stream of invective against them.
Basically, she said, back off and leave her alone because she likes her new look. Whether she really did or whether the not-so-complimentary commenters hit a raw spot is unclear. Amber also seemed to feel hurt that they would hit her when she was down--down as in recuperating from painful breast implants, tummy tuck, Botox, etc, or from disappointment in the Marilyn Monroe fail also isn't clear. 
Amber Portwood plastic surgery smarts and dumbs
The "#Teen Mom OG" star was no doubt in a lot of pain after multiple procedures. A tummy tuck alone requires the recuperation of abdominal surgery. So multiple cosmetic surgery slice-and-dice operations was really smart--and kind of dumb, too, getting it all done at once. Imagine having your stomach chopped up, face stretched and tacked, nose ground down, chin hacked at, Botox injections, eyebrows sewn in, lip implants, boobs cut and sutured--all in one go.
Amber Portwood candidate for 'Botched'?
So there's a lot of healing that has to take place after cosmetic surgery. It typically takes some time for swelling to go down and everything to get back to normal, or, well, the new normal. So right now she looks kind of Japanese anime or Jessica Rabbit-ish. But that could pass. If not, Amber might be a candidate for another #Reality TV show: "Botched." Just like her "Teen Mom" soul sister Farrah Abraham, right? #Celebrities