Aaron Judge will win home run derby over Giancarlo Stanton
A complete breakdown of how the home run derby will play out on Monday.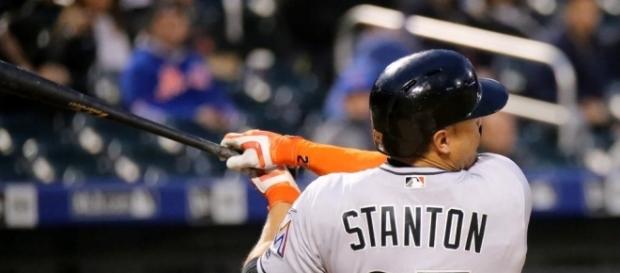 The T-Mobile #Home Run Derby is finally upon us. It will be different with Chris Berman not calling the shots this year, but home runs will hopefully make up for the loss. However, I am going to take a shot at predicting the home run Derby results for this year's contest. The Derby will be held at Marlins Park tonight
First round
Defending champion #Giancarlo Stanton will take on the eight seed Gary Sanchez. There will be no upsets in this first round. Sanchez should not even be in the Derby. He has 13 home runs on the season. Logan Morrison was right that Sanchez should not have been invited, but Stanton will rid the Yankee catcher in the first round.
Sanchez will hit just four home runs in his debut. Stanton will cruise in the first round and will just hit five home runs to move to the semi-finals.
Mike Moustakas and Miguel Sano will battle in a tight race of four and five seed. Sano is the dark horse to win this Derby, and he will take care of Moustakas in the first round. It will be a very tight battle though. Sano will follow the first performance with 14 home runs. He will get the crowd hyped up and cheering. Moustakas will follow with a big showing, but will not hit enough. He will hit 10 dingers and give Sano some anxiety as he watches.
Cody Bellinger will take on Charlie Blackmon in the round of three seed versus six seed. This will be the second upset of the night. Bellinger will get stage fright and hit just six out of the park.
Blackmon will have a huge first round. Blackmon will hit 13 home runs to put the pressure on Bellinger. The rookie sensation will have the support, but not the stats.
In the battle of two seed versus seven seed, Aaron Judge will reign supreme over Justin Bour. Marlin fans will hope for a Stanton versus Bour showdown of Marlin teammates, but they will be disappointed. Bour will open up with eight long balls. Judge will hit the nine to eliminate him to breeze to the second round.
Semi-finals
In a close contest between defending champion and the dark horse, Stanton will use the crowd to propel him to the finals. Sano will have another fantastic round. He will hit 13 home runs to put the pressure on Stanton. Using the home crowd to his advantage, Stanton will crush the 14 home runs needed to give him a shot to defend his title.
In the round of Blackmon versus Judge, the rookie out of New York will breeze to the finals again. Blackmon will have a poor second round. He will hit just seven home runs.
It won't be anything special. Judge will hit eight home runs before he records his sixth out. It will be another easy victory for Judge to set up the final round everyone wants to see.
Final round
Stanton versus Judge is what the fans want to see. Judge leads the majors in home runs and Stanton is playing in his home ballpark. It will be rookie versus proven power. Judge will start the evening off fresh. After hitting just 16 home runs in the first two rounds, Judge will match that total in the final round. His 16 home runs will prove to be too much for Stanton. The previous battle versus Sano will tire Stanton out as Judge will win his first ever home run Derby. Marlin fans will be crushed as the repeat story will have closed. #Aaron Judge