United Airlines settles, Trump warns 'major, major' conflict, NFL draft doings
North Korea faces 'major, major' conflict Trump warns, United Airlines compensates victim, NFL draft scene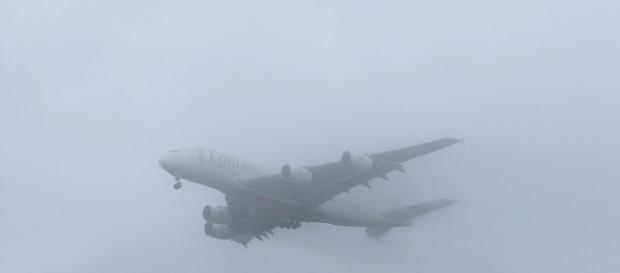 That photo is a plane in Heathrow fog. Sort of like events as they unroll. Flying into the future. #united airlines is trying. Trump is crying "#Major Major" at North Korea. Plus, a Ravens fan and cancer survivor stole the show at the #NFL draft. No wonder Veblen thought sports were important.
Doctor Dao has a secret
Dr. David Dao, the man dragged off a United flight, has reached an undisclosed settlement with the airline https://t.co/7QrEURy2VZ

— The New York Times (@nytimes) April 28, 2017
All we need is a secret to set the Internet on fire. A viral provocation humiliates a gigantic, company-swallowing airline where financial fluctuations are opaque to ordinary people.
How many millions will it take to make this Dao fellow go away? Couldn't we hire him as a PR stunt? Settlements are so yesterday. Trying to enter the mind of an out-of-control airline is futile. According to the thinking of cybercommunities, air travel will not necessary over time. But for the moment, United Airlines is a bit off the hook and this Dao is a bit better off financially.
Trump tells Reuters "major, major" if North Korea conflict is not resolved
President Trump tells Reuters there could be a "major, major conflict" with North Korea https://t.co/EyuxfuPO4j

— The New York Times (@nytimes) April 28, 2017
The problem with Trump comments is that we have imaginations. If he says major, major we think nukes. This works well in a story, a story that is remote and imaginary and told when tucking children into bed.
Has anyone ever studied the idea that telling chilling stories never kept a kid from drifting off to sleep? In any case, the president is not changing a thing with these remarks. We are in the dark about what's going on. China has minimal wiggle room. We have hopefully bluster but not blasting. We pray as this unfolds that many third ways emerge to move us from a binary path to inevitable violence and the risk of more.
Ravens fan's best dream
Young cancer survivor gets wish to announce Ravens' pick alongside Roger Goodell at NFL draft. "He loves his Ravens" https://t.co/fZJBALqWpq pic.twitter.com/XHJ4oinuRX

— ABC News (@ABC) April 28, 2017
T.J. Owuanibe's cancer is in remission. TJ also got his wish: He went to the NFL draft and got to announce the Baltimore Ravens top pick standing at the side of NFL Commissioner Roger Goodell. The wish was made two years ago when TJ was told he had brain cancer. He let it be known he wanted to be up there with Goodell. Last night Baltimore opted for an Alabama cornerback named Marlon Humphrey.
TJ helped make the pick official. The eighth-grader was quiet and reserved until Goodell told a national audience that "he loves the Ravens". The boy smiled. Then he took the mike and announced the pick with a fist pump.
Envoi
A triad of compensation, Trump warning, and a wish granted. Which of these will stick with us when the day is done? I think the last. We are finally a hopeful people. We have resources that make it possible to move beyond the pale of hurt and harm. That is what we celebrate when we think to