Twitter reacts to the London terror attack
Keeping calm and carrying on gives way to anger and resentment as well as determination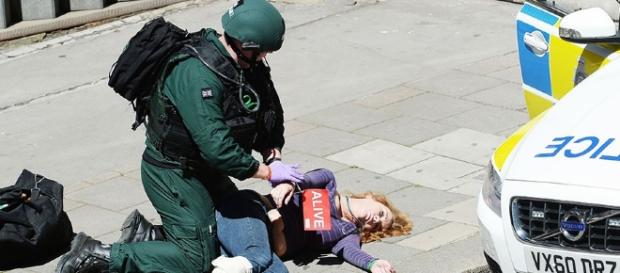 #Twitter rose to the #London terror attack with a mixed response. Some users took screenshots of Arab television stations with Facebook smiley emojis drifting over the reports of the terror attacks.
This was the reaction to the #London terror attack on France 24's Arabic live stream. pic.twitter.com/dkkxjpxH7g

— Paul Joseph Watson (@PrisonPlanet) March 22, 2017
Others wrote the war time slogan "keep calm and carry on" to subdue tension and remind others that the British are experts in buckling down and remaining focused and calm under pressure, such as they were during war time in the mid 20th century.
Another few users used a slogan that reminded people to be respectful and not kill others, and it was tinged with a weary amount of anger:
Need I say more? #PrayForLondon #Westminster #London pic.twitter.com/Dbo9nev67h

— Arthur Kirkland (@KirklandBloke) March 22, 2017
A significant amount of users displayed footage of the Islamic preacher Abu Izzadeen who is a well known British Jihadist who said that terrorism is a necessary part of Islam.
But Izzadeen is in jail and the issue was misreported, and even found its way into some of the mainstream press, including the Independent UK, who then took the story down.
And lastly, the We are Not Afraid slogan was also found on Twitter. Showing us that when under pressure Londoners come together and aim to be strong.
Terrorism will never win #Westminster #PrayForLondon #retweet pic.twitter.com/6s6AYxP4Ne

— Recitifed Project (@recitifiedLDN) March 22, 2017
#Terror Attack