Dallas Cowboys, New England Patriots should meet in Super Bowl LI
Seldom do the best two teams get to the Super Bowl, but the Cowboys and Patriots have earned it.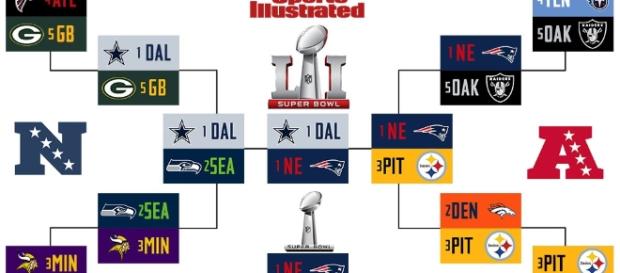 The Dallas Cowboys and the #New England Patriots should meet in #Super Bowl LI in Houston, Texas on February 5, 2017. Both teams lost their starting pro-bowl quarterbacks before the season. The Cowboys lost Tony Romo to a broken bone in his back, and the Patriots lost Tom Brady to Deflategate.
The Cowboys found a replacement in Dak Prescott, with Ezekiel Elliot running behind what some consider the best offensive line in football. Elliot took the pressure off of Prescott, allowing him to grow into the position after losing his first NFL start to the New York Giants. Prescott could have won that first game against the Giants, but in the end it really did not matter as the Cowboys went on to 11 straight wins before losing to New York a second time.
Patriots overcome Deflategate
The Patriots overcame Brady's suspension to end up edging the Cowboys out for the best record in football, going 14-2 and losing only to Buffalo in week four when everyone who could play quarterback was hurt, and Seattle in week nine. The Seattle game was the only real loss of the season for Brady as he looks to punish everyone involved in the Deflate-Gate suspension.
The Patriots and Cowboys were the best two teams in the NFL this season. Other teams had flashes of greatness, but injuries, bad bounces, or amazing performances by opponents left them on the cusp of, but never quite achieving greatness. The New York Giants did beat the Cowboys twice, once in Prescott's first NFL start, and once in a game where the Cowboys appeared to have little to no interest in being there to begin with.
Raiders and Texans kick it off
The NFL playoffs start with the Oakland Raiders traveling to Houston for a game without quarterbacks for the Texans. Derek Carr's broken leg almost assuredly put an end to the Raiders amazing turnaround season, while Brock Osweiller is back as the Texans' starting quarterback after a horrible year. Both teams will be looking for someone to step up and lead them through to the next round, Houston at home gets the edge to move on.
The Seattle Seahawks, Pittsburgh Steelers, and the Green Bay Packers should all take care of business in the first round with the Giants visiting Lambeau Field to play the Green Bay Packers as a 4.5 point underdog. Seattle is favored by 8 to end the Detroit Lions season, and the Pittsburgh Steelers are favored to beat the Miami Dolphins by 10 in Pittsburgh.
Champions overcome obstacles
Brady, Prescott, and their respective teams have done what champions do, overcoming adversity to rise to the top of the NFL football world. Fittingly, it maybe Tony Romo's last chance to win a Super Bowl while a Dallas Cowboy, and Romo may do that with a clipboard in his hand instead of a football. Romo has always been a team player, now the team needs to win one for Romo. #DallasCowboys