Arizona man arrested for endangering firefighting aircraft and ground crews
Rate this title
Arizona man violated restricted airspace flying drone over fire; posted photos to website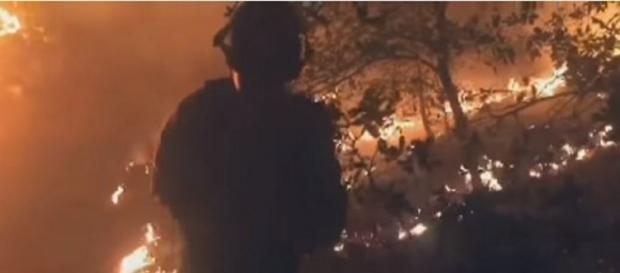 Gene Alan Carpenter, 54-years-old, of Prescott Valley, AZ, was arrested June 1 and charged with unlawful operation of his unmanned aircraft and endangerment, according to a statement by the Yavapai County Sheriff's Office on Saturday. Law enforcement said Carpenter flew his Drone in closed air space over the Goodwin Fire, endangering 14 helicopters and air tankers and their respective crews as well as fire ground crews, and posed great risk of injury or "imminent death."
Authorities contend that Carpenter controlled the drone by encircling one of the official firefighting planes battling the wildfire. With the danger the aircraft presented to the plane, the airspace was forced to be cleared, as the Goodwin Fire air attack pilot supervisor said.
Ground crews had to halt firefighting as well and leave the area since they were no longer protected with the air tanker grounded.
Witnesses reported man with drone near fire area
Throughout the week of fighting the fire, more reports of the drone in the area were received, said the sheriff's office. Within 30 minutes after receiving the first report of the Goodwin Fire, which was at approximately 4 p.m. on June 24, aircraft started flying. Then, shortly before 7 p.m., a witness reportedly contacted a man flying a drone. The man was near a white van, standing near the U.S. Forest Service's Mount Union Lookout tower. Forest Service personnel manning the tower reported seeing the same thing, at the same time as the second witness – a man, hear a white van, flying a drone. Partially from prior contacts with Carpenter, officers established leads which led to identifying him.
On June 27, a third witness reported a man fitting Carpenter's description, again, standing next to a while van with a drone in the back of the vehicle, according to the sheriff's office news release.
Firefighting grounded when drone intruded airspace
The next sighting of the man with a drone, allegedly Carpenter, was on June 28. The Air Attack Pilot supervisor, the fourth witness, told a detective that it was his job to keep control of all the aircraft in the area of the fire and also help air tankers battling the fire. He said 14 aircraft in the Goodwin Fire area, which included three DC-10 air tankers, five "heavy" air tankers, and five helicopters.
According to the supervisor, the drone was flying at his altitude when he spotted it, and while he tried to determine where it was coming from, the drone circled the plane. The intrusion necessitated clearing the airspace immediately since it posed danger to aircraft. For nearly an hour, aircraft remained grounded.
Off-duty deputy spotting suspect led to arrest
Deputies started searching for Carpenter following information witnesses provided, descriptions of the drone, and from Carpenter's website, photos from the drone's vantage point of the Goodwin Fire.
An off-duty sheriff's deputy saw the suspect's van in Prescott on June 1. Carpenter was stopped after the deputy coordinated patrol deputies' response. Officers found the drone in Carpenter's van and seized it.
Carpenter was arrested, booked and remanded to custody at Camp Verde Detention Center where he remains. Detectives plan to meet today with federal officials and discuss possible added charges premised on federal statutes respective of temporary flight restrictions.
Click to read more
and watch the video
or