Barron Trump gets special souvenir from Israel's first lady
First son receives gift from Israeli First Lady Nechama Rivlin and Melania Trump is moved by gesture.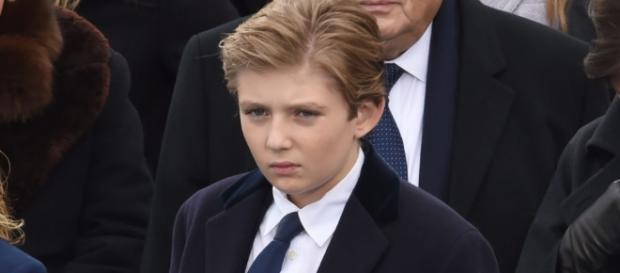 #Barron Trump will get a special souvenir from Israel's first lady when his parents return home from their nine-day foreign trip. The 11-year-old stayed home while they traveled to Saudi Arabia, Israel, Italy, and Belgium. Israeli President Reuven Ruvi Rivlin's wife, Nechama, thought of the Donald's youngest son when he and Melania visited the nation.
A book mirroring Barron and his mother
Nechema gave Melania a book called "The Hug" about a young boy and his mother that closely resembles their own story, as reported by the Independent Journal Review. A review from the Jewish Book Council reveals that the book was originally published in Hebrew and was given to Melania for Barron Trump in three different languages.
The story is about a boy named Ben who goes for a walk with his mother and they talk about what makes him special. Being the son of a powerful family can be a lonesome journey, and the story identifies with feelings a boy like Barron might feel. Ben is reassured by his mother that he's never all alone in this world.
The book is written by David Grossman and Ira Michal Rovner; Melania was given copies of it in Hebrew, Arabic, and English. Israel's first lady wrote a message on her Facebook page saying that it was important for her to give Barron a souvenir from Donald and Melania Trump's visit to the country. She added that Barron's mother was "moved" and "immediately understood" that the story reflected her story with her only son.
Nechema continued in her post that she found Melania to be a "charming woman inside and out" and was also sensitive and special.
Barron's mother has been taking on a central role joining her husband on his first major trip as U.S. president.
Barron preparing to move from NYC to the White House
Barron and his mother will move to the #White House at the end of June, according to multiple reports. He's finishing up the school year at the prestigious Columbia Grammar and Preparatory school in Upper East Manhattan. When he moves to Washington, D.C., he'll attend St. Andrew's Episcopal School in Potomac, Maryland this fall.
A few weeks ago Barron Trump's classmates from Columbia visited the White House. The field trip included 80 students and teachers. They had a tour of the White House, listened to a speech delivered by President Trump, and had a large buffet. The special guests stayed overnight at a hotel in Washington before returning home the next day. #Melania Trump