Donald Trump wiretap claim debunked after bombshell new FBI documents released
Donald Trump's allegations of wiretapping by Barack Obama don't seem to be holding up to the facts.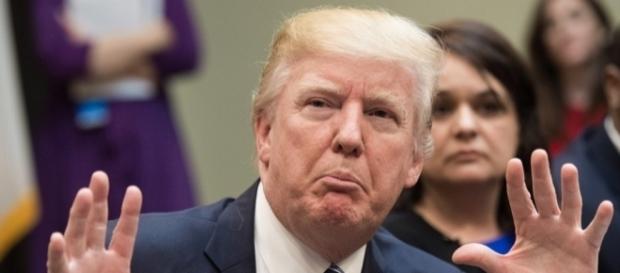 The month of March has been dominated by the allegations from #Donald Trump accusing former President Barack #Obama of #Wiretapping his office in Trump Tower. While the president refuses to reveal any proof to back up his claim, the FBI has new information that continues to push back at the conspiracy.
Trump debunked
As media continued to press the White House over the growing scandal of potential Russian influence on the administration, Donald Trump was forced to change the narrative. Earlier this month, Trump took to his Twitter account and appeared to create a distraction in an attempt to deflect the media from his issues with the Kremlin.
The president accused Barack Obama wiretapping his office, and spying on him during the 2016 presidential election. As expected, a statement by Obama denied any wrongdoing, and Trump has still not provided any credible evidence to validate his claim. As reported by the Washington Examiner on March 19, new information released by the FBI and the Department of Justice to House Intelligence Chairman GOP Rep. Devin Nunes shows that Trump's claim have no validity.
GOP chairman: New evidence from FBI continues to show no wiretap on Trump https://t.co/ZO8OWh2CCG pic.twitter.com/k9L693R2Mf

— Washington Examiner (@dcexaminer) March 19, 2017
Sitting down with Fox News host Chris Wallace, Devin Nunes revealed that the FBI had released new details about Donald Trump's wiretapping conspiracy, and nothing has returned in favor of the president.
"A president doesn't go and physically wiretap something. If you take the president literally, it didn't happen," Nunes admitted. "Was there a physical wiretap of Trump Tower? No. There never was," he confirmed. Adding to his comment, Nunes explained that the information released by the FBI "continues to lead us in that direction."
House intelligence committee members say documents from Justice Department, FBI offer no wiretapping evidence: https://t.co/oFt8smqgUa pic.twitter.com/YUWeWdK3y6

— The Boston Globe (@BostonGlobe) March 19, 2017
Other leaks
Despite no wiretapping taking place, Devin Nunes did express concern over other leaks that were occurring, most notably being retired Gen. Michael Flynn. Nunes noted that Flynn's name was likely leaked in relation to Russian interference by either a member of the FBI or the intelligence community as a way to harm the credibility of the new administration, which ultimately led to his resignation as National Security Adviser. Potential leaks have been a top concern for Donald Trump, who has often prioritize leakers over those in his own administration who have been caught in compromising situations.