Donald Trump responds to 'desperate' Rachel Maddow for releasing old tax return
After Rachel Maddow announced that she had obtained a portion of Donald Trump's prior tax returns, the White House fired back.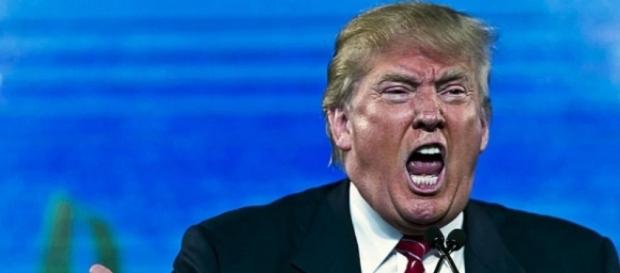 On Tuesday night, MSNBC host #Rachel Maddow announced that she had obtained a portion of #Donald Trump's tax returns from 2005. In response, the president fired back via a statement from the #White House.
Trump on Maddow
For over a year and a half, Donald Trump's tax returns have been a mystery to the American people. Month after month, pressure mounted on the former host of "The Apprentice," who continued to kick the can down the road and avoided releasing his financial information. Speculation grew about what was in the returns, but despite the push back, Trump was able to weather the storm and defeat Hillary Clinton last November to become the new president.
Rachel Maddow of MSNBC has been investigating Trump's taxes for months, and announced on Tuesday that she had obtained, and would release the president's 1040 form from 2005. In response, Trump and the White House released a statement on March 14.
.@WhiteHouse statement on Maddow show @realDonaldTrump tax return via @ewstephe pic.twitter.com/nP8Z0o94p6

— David Shepardson (@davidshepardson) March 15, 2017
"You know you are desperate for ratings when you are willing to violate the law to push a story about two pages of tax returns from over a decade ago," the statement reads. The statement goes on to refer to Donald Trump as "one of the most successful businessmen in the world," before giving further details about the aforementioned 1040 form.
Rachel Maddow says she has Trump's 1040 tax form from 2005 https://t.co/YwWG4TbmQ6

— Variety (@Variety) March 15, 2017
Continuing, Donald Trump's statement said that the president paid $38 million in taxes that year, and doing so on an "income of more than $150 million dollars." Concluding the statement, the White House ripped back into Rachel Maddow.
"It is totally illegal to steal and publish tax returns," the statement read. Not stopping there, the response accused the "dishonest media" of making Trump's taxes a "part of their agenda" that is taking attention away from the real issues facing the country.
Tune in NOW to @maddow on @MSNBC for Rachel's reporting on Trump's tax returns https://t.co/o6jdtZxSrr

— MSNBC (@MSNBC) March 15, 2017
Next up
In the aftermath of the latest glimpse into Donald Trump's financial history, it's likely that the president is going to deflect from any negative press, while continuing his war of words against the media. Trump and the mainstream press have been at odds since the election, and it doesn't look like it's going to slow down anytime soon.