Mother attended college to help quadriplegic son get his MBA
A devoted mother attended classes with her son, and she received a big surprise when he graduated.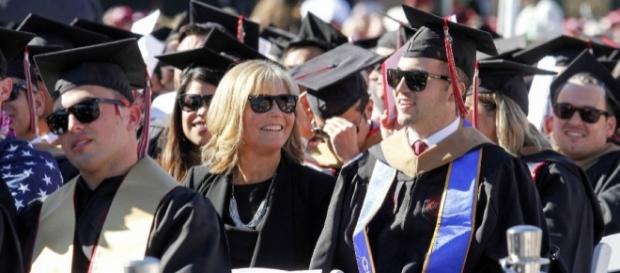 There are a lot of touching stories about graduations and commencement services. Some of them are very touching especially the story about a mother who gave up everything to attend college to help her quadriplegic son get his Master of Business Administration degree from #Chapman University in Orange, California.
Back in 2012, Marty O'Connor fell down a flight of stairs and became paralyzed. After almost two years recovering from his accident, he wanted to return to college to get his #MBA degree, and the college he wanted to attend was not local. In 2013, Marty enrolled at Chapman University. His mother, Judy O'Connor, gave up everything to move across the country to be with her son to help him fulfill her dream.
At Chapman University
The retired Florida teacher was back in college again. This time it was not to get a degree herself. Instead, she was there to help Marty get his MBA degree. Judy attended every class as well as tutoring sessions and study groups and whatever else was required to help her 29-year-old son graduate in the two-year MBA program. Judy took notes and even raised her hand when Marty wanted to ask a question or give an answer in class. However, it was Marty who actually responded through his communication devices.
Graduation service
With the help of his mother, Marty completed his MBA program and even made it into the Beta Gamma Sigma Honor Society. He also received Chapman's outstanding graduate student award.
During the graduation ceremony, Marty was not the only O'Connor who received an MBA.
His mother was presented with an honorary MBA. Judy was totally surprised because she had no idea she would be honored. What she did was out of love for her son. She didn't know Marty had nominated her to receive the degree.
President Daniele Struppa told ABC News that all the college officials approved the request. After all, Judy learned what the other students learned. The college president added that they were more than happy to award both son and mother the MBA degrees. Judy received a standing ovation as she was presented with the degree.
Judy concluded that the entire process changed both of them. It was therapeutic for her, and she saw the transformation in Marty who already has landed his ideal job working for a youth program in sports. Judy said they are planning to get a professional assistant to help him this time. She plans to go back to tutoring. #honorary degree